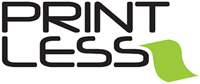 Tracking and in the Learning Commons, Scholarly Commons and CITS labs yielded some staggering statistics.
Paper & toner use
During the fall 2009 semester, the library and labs used 1,250,000 sheets of paper.
Projection for the spring semester was the same: 1,250,000 sheets of paper.
Or: 2,500,000 sheets of paper per academic year.
In environmental terms, how many trees? 300 trees per academic year
Simultaneously, 104 toner cartridges were used per academic year.
Wasted paper
These numbers are large, but at least all that paper is going to good use, right? Student assignments, reports, homework . . . Unfortunately, a lot of paper winds up in the trash cans right in the labs and library.
Paper waste analysis for 2 months:
100,000 pieces of paper--or 20 cartons, or ½ a ton--have been wasted in the library public printing areas
In environmental terms, how many trees thrown away? 12 trees in just 2 months
In financial terms, how much money thrown away? $600 in just 2 months
Enviromental impact
1 ream of paper (500 sheets) uses 6% of a tree
1 ton of uncoated virgin (non-recycled) printing and office paper uses 24 trees
Some details
40 cartons of paper = 1 ton
Our 1 pallet size = 20 cartons or ½ ton
Each carton = 10 reams of paper
Each ream = 500 sheets
1 box of paper (10 reams)= $30.00
Waste less. Print less.

If you have suggestions or comments, please use the IT Help request form at https://ithelp.umassd.edu/printless.