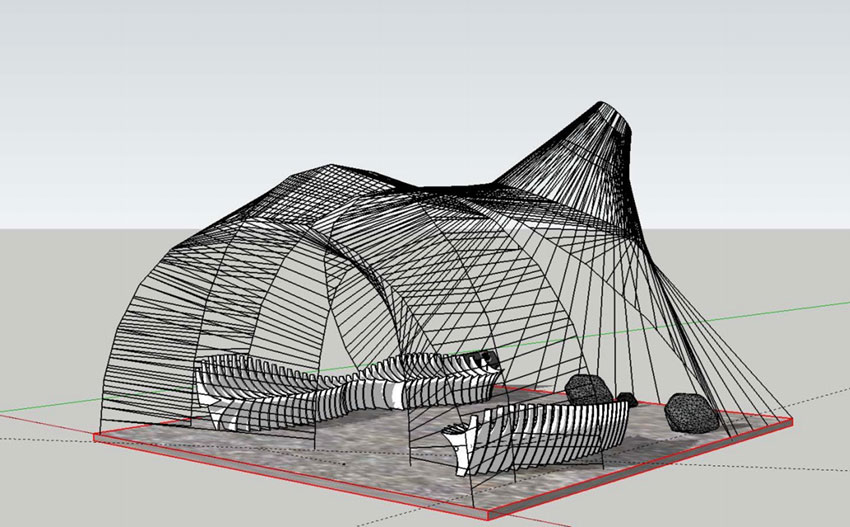 The ocean is a connected space, dynamic and teeming with life. The UMass Dartmouth team was inspired by the daily impact of the ocean on life in New England. Our rendition of a connected space, Catch and Release, will harbor the currents of SOFA visitors, like a school of fish, inviting them to share a moment of curiosity and reflection with friends, companions and even strangers.
Previously, UMass Dartmouth brought their installation "Weaving with Light" to life at SOFA Connect 2015. The presentation paid tribute to the historical impact the textile industry has had on the university's beginnings. The Textile Free School, UMD's precursor, was established in 1899 as the first center for higher learning in New Bedford. It was also a testimony of the legacy left behind in contemporary textile mills nearby and in the work of local fiber artists who carry on the tradition while incorporating their own aesthetics and dimensions. At the Navy Pier the team explored the intersection of industry and artistry with an intensely participatory installation that enticed visitors to engage in the actual production of cloth; the 45 yards of textile a record of a formed community.
The students are back again this year, with tremendous support from faculty, staff and the community to present "Catch and Release" this fall. This installation shifts focus on a more natural force, the ocean. This year's connected space will urge visitors to sit back and learn from something they have no control over and inspire them not to just take from it but nurture it.
The location of the school has allowed the region to develop as the forefront of marine research and technology. It started with merchant trading and fishing which has been central to the identity of New Bedford since the nineteenth century. Its effects have been felt throughout the city's history and the fluctuations of its economy. Today, New Bedford proudly supplies restaurants with fresh seafood from Boston to New York. "The Port of New Bedford generates $9.8 billion in total economic value each year; the vast majority of which is derived from commercial fishing. For the 16th consecutive year, the Port of New Bedford leads the United States as the most valuable fishing port". (newbedfordseafood.org, 2018)
For UMass Dartmouth, this foundation provides an opportunity for their School for Marine Science and Technology (SMAST) to lead the country in research and education in marine sciences, ocean technology, climate change, offshore wind, & fisheries management and sustainability.
In order to draw inspiration from our coastal city, we visited the UMass Dartmouth School for Marine Science and Technology (SMAST) in preparation for this project. We toured two of their laboratories, ORSL and OCEANOL, where we saw their research and data collection tools for mapping surface temperatures and currents. Their internationally renowned work solidifies the connection between New Bedford and global concern for the fishing industry and ocean health.
(SMAST) The Oceanographic Remote Sensing Laboratory (ORSL) studies various coastal physical oceanographic processes and how they relate to productivity in the coastal ocean over various trophic levels from phytoplankton to fisheries. Processes of interest currently include the shelf break front, cross-frontal flows and transport due to eddies and Gulf Stream warm-core rings, wind-driven transport, and the effects of varying freshwater output from arctic regions.
The researchers in the Ocean Observation Laboratory (OCEANOL) seek to better understand coastal ocean processes by integrating modern ocean observations with numerical ocean modeling. Measurements from moorings, coastal high-frequency radar sites, shipboard surveys, operational satellite imagery and meteorology are integrated into our studies of various coastal ocean and estuarine domains. OCEANOL's ocean robot, a Slocum glider named "Blue," which yo-yo's underwater gathering valuable data that oceanographers and researchers use to map and track changes in the ocean.
Structure:
Using this experience as a springboard, we continued researching the fishing industry and were attracted to formal design elements of fishing traps used around the world. Recognizing that a trap functions as an inviting enclosure, we have designed a similar structure for visitors to inhabit. The permeability of traps inspired us to explore expansive design. Utilizing light and projections, visitors will be lured into our space, much like baiting a trap. Modular seating inspired by the ocean floor will attract visitors to watch video projections, while diffused lighting will mimic the feeling of being underwater. Our structure draws parallels between the experience of sea-life and human connections through contemporary design.
Two conical forms, referencing the geometry of woven eel traps will dominate the installation. Formally inspired by eel traps, our structure undulates and tapers from entrance to exit. We imagine the conical end of our structure to be covered with white tulle or spinnaker sailcloth to create a three dimensional projection surface. The structure will be built of repurposed materials from the marine industry such as battens, sail cloth, canvas, and boat fittings. These materials were selected for their accessibility, weight, strength, flexibility, and spare aesthetics. The trap-form will be built in sections and assembled on site. The tensioned structure will stand with weighted anchors, while the tapered end will either be self supporting or utilize a cable from the ceiling, referencing how a trap would be pulled up from the ocean floor. We are exploring the use of handmade netting throughout our structure as a tactile design element. The entrance, for example, is set into the frame of the form, and is significantly smaller than the overall structure in order to filter visitors into the belly of the trap.
Seating:
Referencing the fluctuation of the ocean floor, we are planning to build parametric benches to seat several people, encouraging connection not found in the singularity of a chair. These benches will be constructed out of wood or other rigid laminate materials and cut on our CNC router. These benches will create hollows in the form using slats with gaps that allow integrated lighting, projection and audio to radiate from within. Supplemental rock-inspired seating will be designed using 3D modeling software to create cutting patterns from repurposed marine textiles which will then be sewn and stuffed with recycled material, such as plastic bags, to create ottoman-style seats.
Lighting:
Diffused lighting will be installed throughout the space to simulate light breaking the surface of the ocean. Our main source of light will be video projections of ocean imagery and data sourced from our partners at the School for Marine Science and Technology to project into the conical end of our structure and subsequently illuminating the space. This focal point draws visitors in and invites them to linger and contemplate the experience of a fish. We are experimenting with low level, cold spectrum LED lights to incorporate into the hollow bench seating to emulate the glow of coastal bioluminescence. Localized ambient ocean sounds are being investigated to be included in the seating at specific frequencies to transport the visitor into an underwater habitat.
Conclusion:
We are a unique group of students with backgrounds in digital design, textiles, ceramics, and business. Since submitting our proposal in May 2018, the Interior Architecture, Fashion Design, Game Art and Graphic Design departments from the Mount Ida College School of Design has merged with the UMass Dartmouth College of Visual and Performing Arts. We are delighted that many of these students and their faculty have joined our CONNECT team.
As we prepare our installation for SOFA Chicago, we have been granted permission to stage our project in the Merchants National Bank, one of New Bedford's premier financial institutions of the 19th and 20th centuries, during the height of the city's whaling and textile periods.
Utilizing these diverse perspectives, we are intent to create an inviting and dynamic connected space that will envision and realize the experience of life below the sea.
---