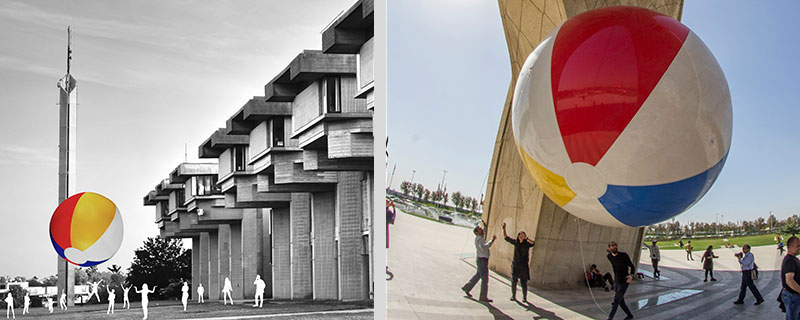 When: Thursday, February 7, 2019 12:00 PM - 4:00 PM
Where: UMassD quad near campanile + CVPA 156



SCHEDULE

12:30-1:00 & 2:00-3:00 @ UMASSD QUAD, BY THE CAMPANILE: "MADE IN CHINA": A PARTICIPATORY ART PROJECT AROUND THE WORD AND AT UMASSD QUAD


1:00-1:45 @ CVPA 156: ARTIST TALK: "AIR POLLUTION AND ART ACTIVISM IN TEHRAN" | COMMENTARY BY PROFESSOR PAMELA KARIMI


3:00-3:30 @ CVPA 156: ARTIST TALK: "SOCIAL PRACTICE AND-ECO ART IN THE DESERT TOWNS OF IRAN" | COMMENTARY BY PROFESSOR PAMELA KARIMI


ABOUT THE ARTIST

Born in 1977 in Yazd, Iran, Negar Farajiani is a US resident, who lives and works in Tehran, Iran. Trained as a painter and photographer, Farajiani works at the convergence of diverse media as a social practice artist and curator. By frequently engaging crowded public spaces, Farajiani invites her audiences to interact with her art. Farajiani has presented her art internationally. Titled "Made in China," Farajiani's UMD quad interactive art project was previously presented in conjunction with major events and festivals and in several cities around the world, including in Tehran, Seattle, Tbilisi, Dubai, Toronto and Chicago.

For more information about Farajiani's work visit: www.negarfarajiani.com
For more information about "Made in China," read a recent interview with Farajiani here: www.konesh.space/home/the-giant-tricolored-beach-ball



***This event is organized by professor Pamela Karimi of the Art Education, Art History and Media Studies Department at the College of Visual and Performing Arts. The event is made possible through a generous grant from the office of the Provost. The event is free and open to the public.
---