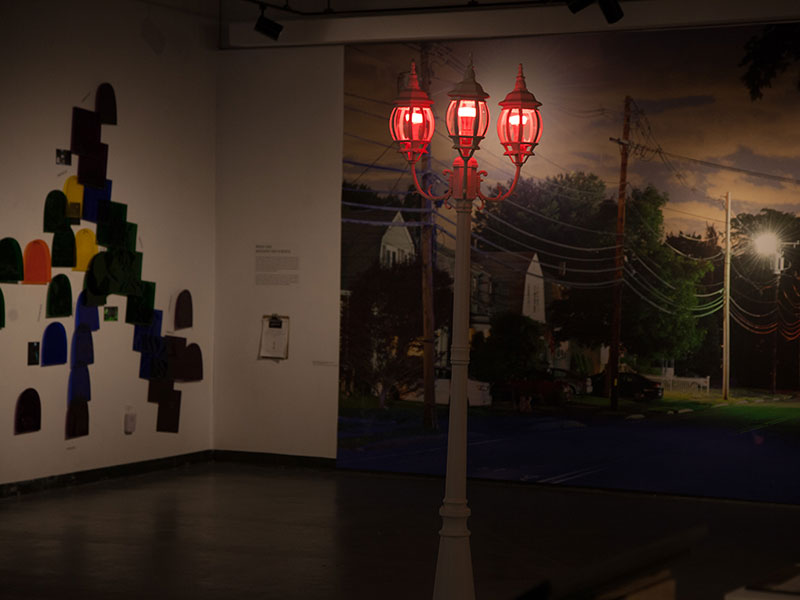 Artist Dan Borelli, a Visiting Artist at CVPA, has been awarded an artist residency at the New Bedford Whaling National Historical Park. Over the spring 2019 semester, Borelli has been involved in many ways with CVPA and our local community. Borelli has worked with Dr. Rebecca Uchill on a hybrid course, "Contemporary Art Theory for Studio Production," which has explored contemporary theories of context-specificity and community-engaged art in particular. The course follows a Service Learning pedagogy and includes final projects that propose to design changes in targeted social, political, and place-based circumstances.
In addition to his art practice. Borelli is an experienced exhibition designer, who has worked as the Director of Exhibitions at the Harvard University Graduate School of Design for nearly two decades. His exhibition Chasing Color, which was on view in the UMass Dartmouth Galleries from February 15-April 1 2019, was the catalyst for dynamic public programming focused on social justice and community engagement in arts and design. Borelli is also part of an upcoming group exhibition and three-campus UMass Local Ecologies initiative. In association with partners like Dan Borelli, CVPA extends its involvement in collaborations with community partners and involvement in the development of our region's dynamic cultural ecology.
Borelli's residency at the New Bedford Whaling National Historical Park will focus on research into New Bedford's "unique locality" focused on its contamination and Superfund site, history of whaling, and historical street lamps.
Congratulations Dan Borelli!
Dan Borelli will offer his first public program as Artist in Residence, "Superfund Sightings," on Saturday, April 27 at 3:00. The program will occur at the New Bedford Whaling National Historical Park site at 33 William St, New Bedford, MA 02740.
---