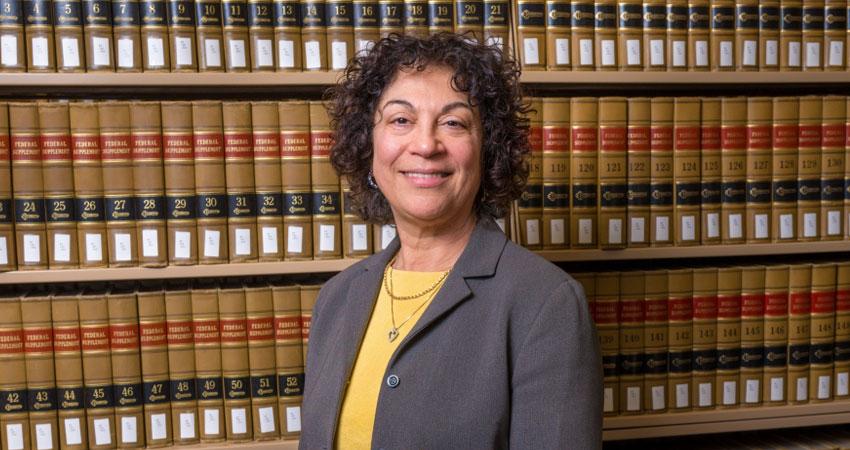 Irene Scharf
Professor
Law School / Faculty

508-985-1123
508-985-1136
UMass School of Law 218
---
Education
| | |
| --- | --- |
| Suffolk University Law School | JD |
| | |
| --- | --- |
| The University of Albany | BA |
Teaching
Torts
Constitutional and Criminal Law
Field Placement classes
Teaching
Courses
Professional background
Professor Scharf engaged in private practice for several years and was then counsel with state and local administrative agencies, including the Massachusetts State Ethics Commission. She served as a Special Assistant Attorney General (Commonwealth of Massachusetts Tobacco Litigation) and is a trained mediator in domestic relations, as well as an arbitrator for the Financial Industry Regulatory Authority.
Professor Scharf has taught at the State University of New York, the University of Puget Sound School of Law (now Seattle University), Boston University Law School, Northeastern Law School, and twice with the Institute on International and Comparative Law of the University of San Diego Law School's Paris, France campus. She is a member of the Massachusetts and New York bars.
She served as Associate Dean for Clinical Programs (2002-2010) at UMass Law's legacy institution, Southern New England School of Law, and as Director of Clinical Programs and Experiential Learning at UMass Law from 2010 to 2013. In these positions, she played leadership roles in developing the school's clinical programs, including a wide variety of both in-house and off-site clinics, a broad internship program, and one that served all law students, whether enrolled in the full-time or part-time program.
Professor Scharf was recently re-appointed to a second term on the Board of Publication of the American Immigration Lawyers Association, the national organization for immigration attorneys, and is the editor-in-chief of its recent publication, The Waivers Book: Advanced Issues in Immigration Practice, and two more recent books geared toward immigration practitioners.
She is currently an active member and blog author in a nationwide movement of law professors who are encouraging use of "Best Practices" in legal education.
Publications
Professor Scharf's most recent publication is an article entitled Un-Torturing the Definition of Torture and Employing the Rule of Immigration Lenity, to be published Fall 2013 in the Rutgers Law Review.
Among her other publications are the following:
Un-Torturing the Definition of Torture and Employing the Rule of Immigration Lenity, 66 Rutgers L. Rev. (2013)
The Exclusionary Rule in Immigration Proceedings: Where it Was, Where it Is, Where it May be Going, 12 San Diego Int'l L.J. 53 (2010).
Nourishing Justice and the Continuum: Implementing a Blended Model in an Immigration Law Clinic, 12 Clinical L. Rev. 346 (2005)
Kosovo's War Victims: Civil Compensation or Criminal Prosecution For Victims of Identity Elimination?, 14 Emory Int'l L. Rev. 1415 (2000)
Tired of Your Masses: A History of and Judicial Responses to Early 20th Century Anti-Immigrant Legislation, 21 Hawaii L. Rev. 131 (1999)
Breathe Deeply: The Tort of Smokers' Battery, 32 Hous. L. Rev. 615 (1995) (an abbreviated version of which appeared in Massachusetts Lawyers Weekly in 1996)
What Process is Due? Unaccompanied Minors' Rights to Deportation Hearings, 1988 Duke L.J. 114 (1988) (co-author)
External links