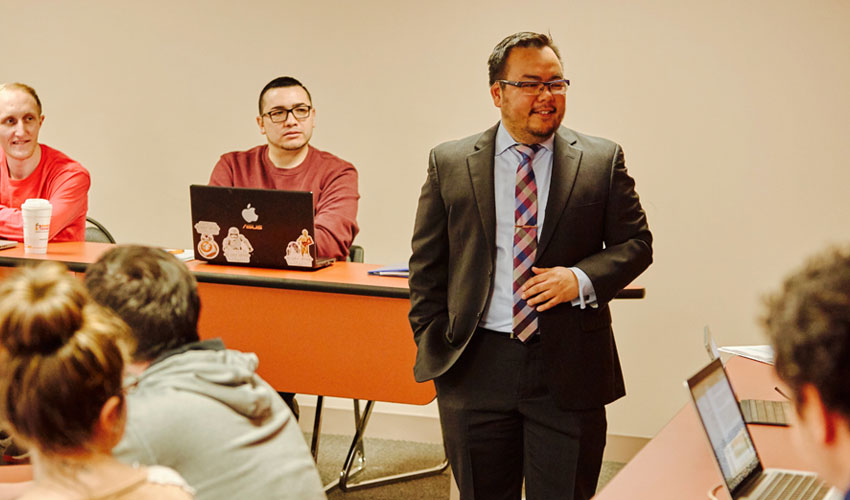 Jeremiah Ho
Associate Professor
Law School / Faculty

Curriculum Vitae
508-985-1156
508-985-1115
UMass School of Law 230
---
Education
| | |
| --- | --- |
| Whittier College School of Law | JD |
| | |
| --- | --- |
| University of California, Los Angeles (UCLA) | BA |
Teaching
Contracts
Trust & Estates
Remedies
Products Liability
Law Review Note Writing
Teaching
Courses
Research
Research Interests
Law and inequality (race, sexuality & culture)
Legal education, methodology and theory
Professional background
Professor Ho joined the UMass Law faculty in 2012. He teaches Contracts, Trusts & Estates, Remedies, Products Liability, and Law Review Note Writing. He writes about law and inequality, exploring such issues mostly with respect to sexuality, race, and culture. In addition, he also writes extensively on legal education, methodology, and theory. His articles have appeared in the Harvard Journal on Legislation, The Georgetown Law Journal Online, the Journal of Legal Education, the Utah Law Review, the Kentucky Law Journal, the Marquette Law Review, the U.C. Davis Business Law Journal, the Cleveland State Law Review, and others. Professor Ho is currently a regular contributor on the Humans Rights at Home Blog, and his blog postings on sexuality and race often garner mentioning by SCOTUS Blog.
Professor Ho also holds a strong passion for teaching. In 2014, Professor Ho was selected for Lawyers of Color's 50 Law Professors Under 50. He has also received the Professor of the Year Award four times at UMass Law in 2016, 2017, 2018, and 2019. Recently, Professor Ho's TEDx-style talk on law teaching was recorded at American University, Washington College of Law and is part of a curated series at LegalED. He has also been interviewed previously by NPR for his views on legal education. Since 2013, he has been a contributing faculty member at the Institute for Law Teaching and Learning.
Prior to joining UMass Law, Professor Ho taught at Washburn University School of Law. He was the inaugural fellow at the Institute for Law Teaching and Learning, co-sponsored by the law schools at Gonzaga University, Washburn University, and the University of Arkansas, Little Rock. Professor Ho formerly practiced in the Los Angeles area, handling complex civil litigation matters in employment and wage-and-hour cases. He is currently a member of the State Bar of California.
Publications
Queer Sacrifice in Masterpiece Cakeshop, 31 Yale J.L. & Feminism __ (forthcoming).
Preventing Neonatal Abstinence Syndrome within the Opioid Epidemic: A Uniform Facilitative Policy, 54 Harvard J. on Legis. 423 (2017) (with Alexander O. Rovzar).
Law as Instrumentality, 101 Marquette L. Rev. 87 (2017).
Why Flexibility Matters: Inequality and Contract Pluralism, 18 U.C. Davis Bus. L. J. 35 (2017).
Find Out What It Means to Me: The Politics of Respect and Dignity in Sexual Orientation Anti-discrimination, 2017 Utah L. Rev. 468 (2017).
Once We're Done Honeymooning: Obergefell v. Hodges, Incrementalism, and Advances for Sexual Orientation Anti-discrimination, 104 Ky L.J. 207 (2016).
Function, Form, and Strawberries: Subverting Langdell, 64 J. Legal Educ. 656 (2015).
A Vast Image Out of Spiritus Mundi: The Existential Crisis of Law Schools, 103 Geo. L. J. Online 77 (2015) (reviewing Robin L. West, Teaching Law: Justice, Politics, and the Demands of the Profession (2014).
Weather Permitting: Incrementalism, Animus, and the Art of Forecasting Marriage Equality After U.S. v. Windsor, 62 Clev. St. L. Rev. 1 (2014).
Curriculum Reforms at Washburn University School of Law, in Reforming Legal Education 41-77 (David M. Moss & Debra Moss Curtis eds., 2012) (co-authored with Michael Hunter Schwartz).
I'll Huff and I'll Puff—But Then You'll Blow My Case Away: Dealing with Dismissed and Bad-Faith Defendants in California's Anti-SLAPP Statute, 30 Whittier L. Rev. 533 (2009).
Comment, What's Love Got to Do with It? The Corporations Model of Marriage in the Same-Sex Marriage Debate, 28 Whittier L. Rev. 1239 (2007).
External links