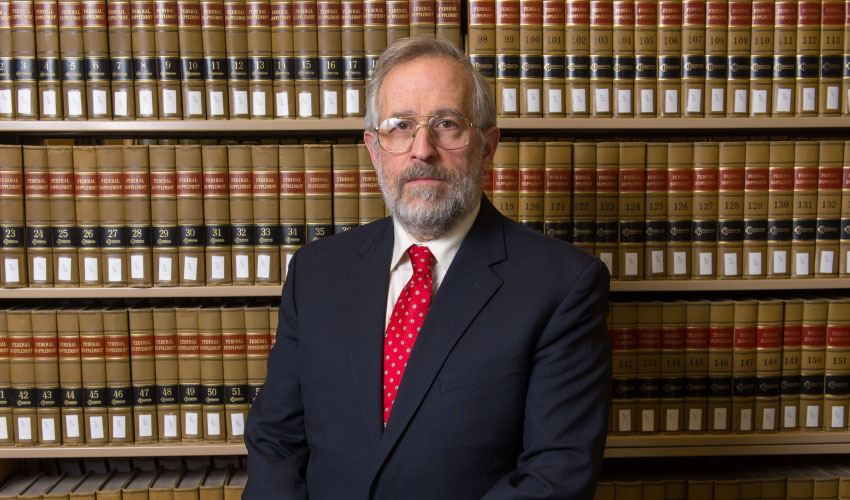 Ralph Clifford
Professor
Law School / Faculty

508-985-1137
508-985-1115
UMass School of Law 217
---
Education
Teaching
Property
Intellectual Property
Cyber Law
Civil Procedure
Professional background
After finishing law school at New York Law School, Professor Clifford practiced law concentrating in trial practice, real estate, and high technology law. He was also an adjunct faculty member of the University of Bridgeport Law School, teaching Law, Science and Technology.
Professor Clifford is a member of the bars of the states of Connecticut, New York, and Massachusetts and joined the Southern New England School of Law faculty in 1991.
Publications
Creativity Revisited, - IDEA - (publication expected, Fall, 2018)
Why the Massachusetts "Tax Deed" Process is Problematic, Mass. Lawyers Weekly, Jan. 22, 2018, at 39
Massachusetts Has a Problem—The Unconstitutionality of the Tax Deed, 13 U. Mass. L. Rev. 274 (2018)
Design Patent Infringement Needs a Free Expression Defense, 2017/1 UIA Juriste 44 (2017) (with Prof. Richard J. Peltz-Steele)
Professor Clifford is the author of Computer and Cyber Law Cases and Materials (1999) and editor of Cybercrime: The Investigation, Prosecution and Defense of a Computer-Related Crime (3d ed. 2011).
He has also published a number of articles, including:
A Jukebox for Patents: Should Patent Licensing be Controlled by Compulsory Licensing?, 16 Wake Forest J. of Bus. & Intell. Prop. 335 (2016)
The Constitutionality of Design Patents, 14 Chi.-Kent J. Intell. Prop. 553 (2015) (with Prof. Richard J. Peltz-Steele)
Is it Time for a Rule 11 for the Patent Bar?, 53 IDEA 351 (2013)
Technology Drives the Law — A Foreword to Trends and Issues in Technology and the Law, 7 U. Mass. L. Rev. 1 (2012)
A Statistical Analysis of the Patent Bar: Where Are the Software-Savvy Patent Attorneys?, 11 N.C. J.L. & Tech. 223 (2010) (with Tom Field & Jon Cavicchi)
Intellectual Property Rights in an Attorney's Work-Product, 3 S. New Eng. Roundtable Symp. L.J. 1 (2008)
Random Numbers, Chaos Theory and Cogitation: A Search for the Minimal Creativity Standard in Copyright Law, 82 Denv. U. L. Rev. 259 (2005)
The Federal Circuit's Cruise to Uncharted Waters: How Patent Protection for Algorithms and Business Methods May Sink the UCITA and State Intellectual Property Protection, 73 Temp. L. Rev. 1241 (2000)
Simultaneous Copyright and Trade Secret Claims: Can The Copyright Misuse Defense Prevent Constitutional Doublethink?, 104 Dick. L. Rev. 247 (2000)
Intellectual Property in the Era of the Creative Computer Program: Will the True Creator Please Stand Up?, 71 Tul. L. Rev. 1675 (1997)
Before coming to Southern New England, he published a series of articles:
Computer Software Protection – Debugging the Legal System, The Computer User's Legal Reporter (1985)
Programmer Professionalism: Issues and Legal Aspects, The Computer User's Legal Reporter (1985)
Shrink-Wrap and Other Software Licenses – Are They Any Good?, The Computer User's Legal Reporter (1985)
External links