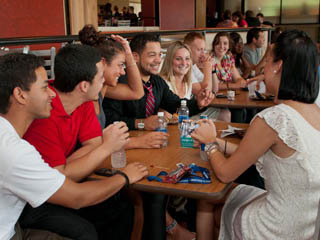 Have you seen the brand new Commuter Meal Plans? For the Fall 2018 semester, commuter students will have the option to choose one of three brand new, low cost meal plans. Plans range from $150-$300 per semester and feature a combination of Corsair Cash and meal swipes.
Swipes can be used at the Marketplace—the-all-you-care-to-eat location—as well as Birch Grill and the Academic Carts. Corsair cash can be used at all dining locations on campus and functions the same as cash.
"I think a commuter meal plan is important because it is extremely customized and comes attached to your bill," graduate student Krushita Kothari, said. "I'm on campus for most of the day, so a meal plan is very useful for me. Plus, I save money by avoiding tax."
A meal plan gives students the flexibility and convenience of eating in between classes or during a study session, without having to pay out of pocket.
The idea for a commuter meal plan originated from Dine and Discuss—a twice per semester meeting designed to be an open dialog between UMass Dartmouth students and Campus Services and Dining Services staff.
Commuter students in attendance felt that current meal plan options were tailored more toward resident students. Commuter students don't spend as much time on campus, but most still purchase food from campus locations a few times per week. Most stated that they wanted a lower cost plan that made it convenient to eat on campus during the week.
Students also expressed the desire to become more a part of the UMass Dartmouth community. Enjoying convenient dining options with friends during the day would greatly improve their experience at the University, both socially and academically.
Commuter students may also choose any other meal plan available.
To sign up for a meal plan, email mealplans@umassd.edu. For more information, visit umassd.edu/campusservices/diningservices/