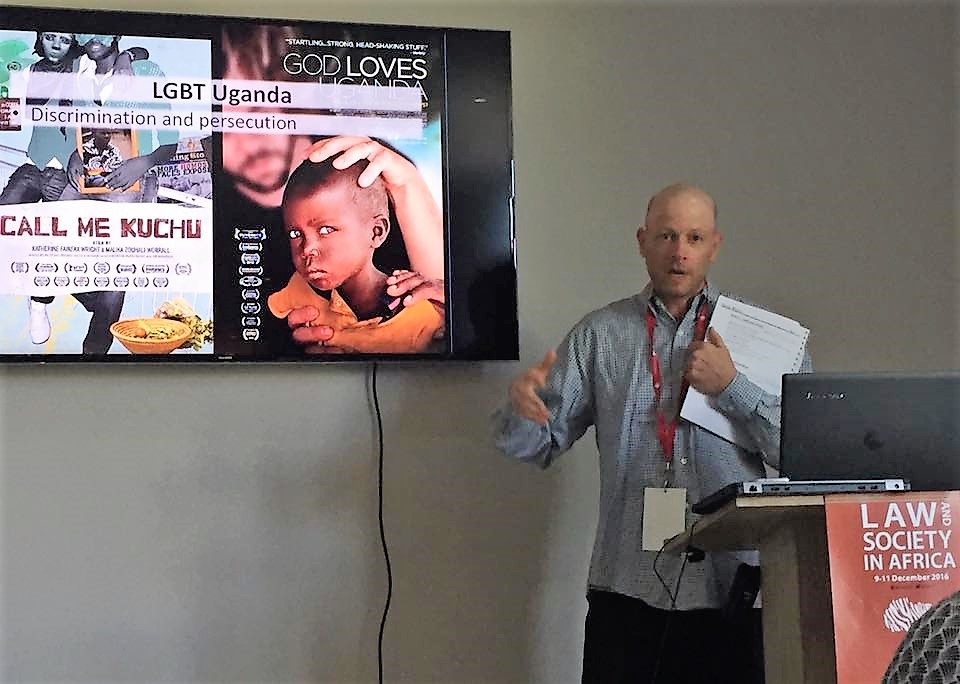 Professor Richard Peltz-Steele reported research on civil rights in Uganda at an academic conference in Cape Town, South Africa. Peltz-Steele examined the historic social power of Christian evangelism in Uganda and its relationship to state power and education. Drawing on previous work with UMass Law alumnus Jose Benavides, Peltz-Steele then proposed leveraging religious-like fervor for sport, and invoking the human rights norms of transnational sport governance organizations such as FIFA, to effect civil rights development, especially with regard to gender and sexual equality.
The panel that included Professor Peltz-Steele was titled "Gender, Law, and Society," and was moderated by Tabeth Masengu, a South African attorney and researcher with the Democratic Governance and Rights Unit at the University of Cape Town (UCT). Four other panelists participated. Jane Dalia of the UCT Centre for Law and Society (CLS), explained distortions in bride-wealth payment for child marriages in Africa. Melanie Judge of the UCT CLS examined legal responses to homophobic violence. Ruth Nekura of the UCT CLS discussed international law related to the "160 girls" case in Kenya (see openDemocracy) and subsequent state accountability for sexual violence. Finally, Sarai Chisala-Tempelhoff, a legal researcher for the Malawi Human Rights Commission and founder of the EmGENDER research network, explored the efficacy of criminal sanctions in combating harmful practices in Malawi, emphasizing the case of Eric Avina (see BBC).
Hosted by the UCT CLS, the Law and Society in Africa conference was the first of its kind on the continent. The conference was organized to facilitate the incorporation of African legal scholars in global research on law and society, and to foster interest in research on Africa by scholars around the world.