Susan J. Leclair, Ph.D., CLS(NCA)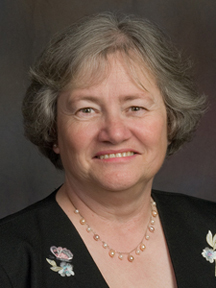 "A favorite quote is from Eric Hoffer who said, 'In times of change, learners inherit the earth while the learned find themselves beautifully equipped to deal with a world that no longer exists.' In medical laboratory science every day brings new learning and new things to try. The only thing that equals the rate of professional growth is your own personal enrichment."
Professional Interests
Clinical Hematology and Oncology, Human Genetics, Bioethics
Recent Professional Activities
2001 - 2008
Editor-in Chief, CLS, ASCLS Professional Journal
1999 - present
Creator and Director, Response Team, ASCLS Consumer Laboratory Testing Information Web Page
University Service
2003 - 2007
President, Faculty Senate
1998 - 2003
Secretary, Faculty Senate
1995 - present
Coordinator, Faculty Senate Brown Bag Lecture Series
Publications
2008
Leclair SJ. Ethics - Problems for today. Clin Lab Sci. January 2008.
2007
Leclair SJ. Respect and responsibility: with apologies to Jane Austen. (editorial) Clin Lab Sci. 2007. 20; 4: 196-8.
Griffith JT, Leclair SJ. DNA in the Courtroom. Roundtable Symposium Law Journal 1, 1; 62-109.
2006
Leclair SJ. History is the Present (editorial). Clin Lab Sci 2006; 19:4.
Leclair SJ. Federal Government Impact in the Clinical Laboratory (editorial). Clin Lab Sci 2006; 19:42.
2005
Leclair SJ. Transitions (editorial). Clin Lab Sci 2005; 18:196.
Recent Awards
Robin H. Mendelson Memorial Award for Outstanding Service to the Profession (ASCLS Consumer Web Page)
ASCLS/Kendall Sherwood Award for Outstanding Service to the Hematology/Hemostasis Section of the Scientific Assembly
University of Massachusetts Dartmouth Alumni Association University Service Award
University of Massachusetts Dartmouth Yvonne Sandstroem Memorial Award for University Service
Email Address