You can choose to create content from the Content menu item in the sidebar or select a Section from the Site Structure and create content from there.
Create content from the menu
Go to Content > Create Content:
A window will appear. Choose the Section to add the content to: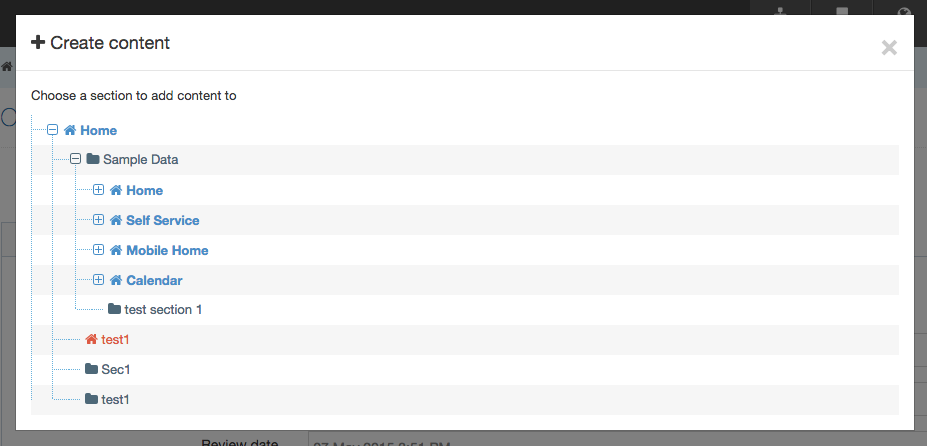 If necessary, expand the Site Structure using the plus (+) icon to the left of the name. Select the name of the Section you want to add content to.
You will then be asked to choose a Content Type to add the content to.
Create content from the Site Structure
Select the Section that you are going to add content to. From the Section Action Menu select Create Content:
You will then be asked to choose a Content Type to add the content to.
Choose a Content Type
When you are adding content you must choose the Content Type that the content will use. When you have specified the Section that your content will be added to you will choose the Content Type.
Most content will use one of the following Content Types:
Main Content: The most common Content Type. It is used to begin a section's main content area.
The Main Content content type consists of 5 content blocks that have corresponding image, video embed, and caption fields. Video embed and image share the same spot. Video takes priority and will display in place of image if there's video embed code in Video embed code 3 and an Image 3 for example.
Here is a side by side of how t4 content is translated onto live page: Main Content Helper Guide. Note: Element names and order are subject to change.
Main Content add-on: Use the add-on for an additional block for an image (or video) and paragraph for following the main-content area of a page. There can be an infinite number of these on a page. Again, be sure to use the Select Media button to insert an image. Do not add images in-line.
Right Column Contact: For adding contact information to a right column. This can be mirrored across a site so there is only one section to update.
Right Column Content: For adding additional content to the right column. Displays under Contact information. This can also be mirrored across a site.
Re-order content
To adjust the order of the content blocks, use the four-way arrow icons in the left column. You can click-drag the pieces of content into your desired order. Some content won't be affected by re-ordering.