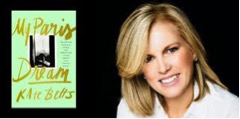 The Boivin Center for French Language and Culture proudly presents its first program of the fall semester, An Evening with Kate Betts, on Thursday, October 15, 2015 at 7 PM in the Grand Reading Room of the Claire T. Carney Library at the UMass Dartmouth campus.
Kate Betts, an award-winning magazine editor and author, was born and raised in New York City. She attended Princeton University where she majored in European history. Ms. Betts began her career as a freelance journalist in Paris. An article she wrote caught the attention of John Fairchild who hired her as a features editor for Fairchild Publications' Paris bureau.
In 1991, she left Fairchild and Paris for New York where she took over as fashion news director at Vogue. In 1999, she became one of the youngest editors ever at Harper's Bazaar. Today, she is a contributing editor at Time and The Daily Beast and reports on fashion for CNN. Kate Betts is the author of the critically acclaimed book on the First Lady's style, Everyday Icon: Michelle Obama and the Power of Style. She was the subject of the Lifetime documentary, "Putting Baby to Bed: Wife Mother, and Editor in Chief."
Earlier this year, her highly-acclaimed memoir, My Paris Dreams, an Education in Style, Slang, and Seduction in the Great City on the Seine, was published. Her memoir will be the topic of her lecture. A Q&A, book signing and a light reception will follow the lecture.
The event is free and open to the public. Parking is available on campus at lot 13. For further information, please contact Maria Sanguinetti at msanguinetti@umassd.edu or by calling 508-991-5096