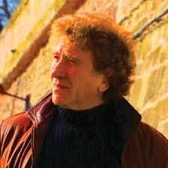 The Boivin Center for French Language and Culture at the University of Massachusetts Dartmouth proudly presents a concert of French songs by internationally acclaimed singer, guitarist, and songwriter, Eric Vincent. The concert will take place in the Visual and Performing Arts Auditorium on Monday, October 20, 2014 at 7 PM.
Eric Vincent has thrilled audiences around the world with his powerful resonant voice and his virtuosity as a guitar player appearing in more than 140 countries including 48 of the 50 states in the U.S. He is considered one of the best contemporary singers of the chansons françaises. His songs, inspired by his world travels, blend folk, jazz, rock and ethnic rhythms. The universal themes of his music are well received by audiences of all ages. His personable and dynamic presence on stage is awe inspiring.
Monsieur Vincent collaborated with James Taylor on his "Faut-il Encore 2000 Ans?" album translating eight songs that Eric had written for James Taylor from English to French. He has also recorded CD's and videos with outstanding musicians such as Pierre Chérèze, Sylvan Marc, Tony Rabeson, Vincent Hamamdjian, Patrick Huard, Jean-Phillippe Audin and many others.
The concert is free and open to the public. Donations are welcome. Parking is available in lot seven. For more information, please contact Maria Sanguinetti at 508-991-5096 or by e-mail at msanguinetti@umassd.edu.