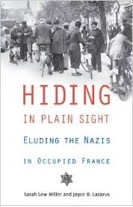 The Center for Jewish Culture and the Boivin Center for French Language and Culture at the University of Massachusetts Dartmouth jointly present a lecture by Sarah Lew Miller and Professor Emerita Joyce B. Lazarus on Wednesday, April 15, 2015 in the Grand Reading Room of the Claire T. Carney Library at 12 noon.
Sarah Lew Miller and Joyce B. Lazarus collaborated on writing Ms Miller's memoir, Hiding in Plain Sight, which tells the plight of her family in eluding the Nazis in occupied France. Ms Miller was born in Poland. She and her family moved to Paris in 1937 to escape poverty. With the help of her Christian neighbors, Sarah and her family were able to evade arrest in Paris in Nazi occupied France for several years living undercover. Sarah escaped to Switzerland and was reunited with her family after the war. Her memoir is a testament to the resilience and courage that enabled individuals and families such as Sarah's to survive the horrors of the Holocaust.
Her co-author, Joyce B. Lazarus, who grew up in New York City, earned a PH.D. in French from Harvard University. She is a Professor Emerita in Modern Languages at Framingham State University where she taught for thirty-nine years.
The lecture is free and open to the public. Parking is available in lot 13. For further information, please contact the director of the Center for Jewish Culture, Jacqueline Satlow at jsatlow@umassd.edu or Maria Sanguinetti at msanguinetti@umassd.edu.