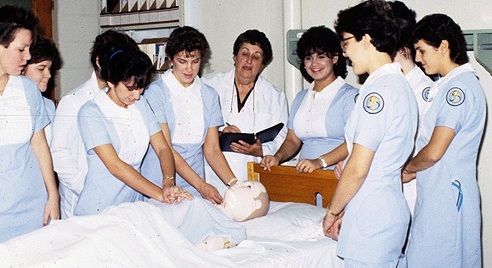 Ora DeJesus (taking notes) with
Nursing students. (Photo from 1980s.)

During Ora DeJesus's leadership, there were approximately 450 students that she mentored in various disciplines and across a broad range of scholarly and professional topics relevant to aging.
Since that time, additional students have been mentored by faculty on campus in several departments including Biology, Economics, English, Medical Laboratory Science, Operations Management and Psychology.
---
Alumni: Research Laboratories
We have a growing number of alumni from our faculty's research labs. These students have conducted age-related research in the fields of adult development, psychology, engineering, biology and cognitive neuroscience. Many students have gone on to pursue professional careers or further graduate study at well established universities in our region and beyond.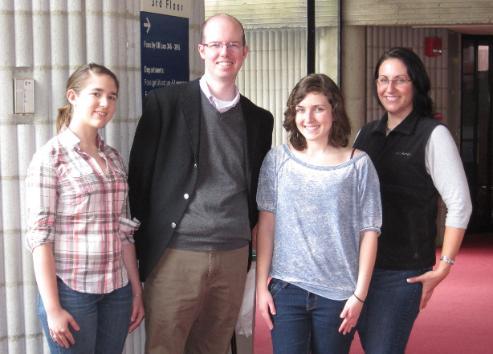 From left to right (a few recent psychology alumni): Kristine Monteiro, Dr. Andrew Revell, Emily Gadbois and Kathryn Maillet
---
If you were a student in an age-related research lab on campus or a student in the gerontology program, please update your alumni information by contacting us!

Please email us at: healthyaging@umassd.edu, or call (508) 999-8376.