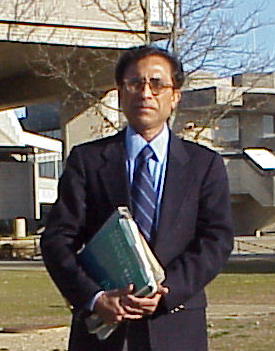 Designation:

Working as a Associate Professor in UMASS Dartmouth's Department of Accounting and Finance, College of Business.

Prior to this institution I was a faculty member at Temple University, Philadelphia, where I taught finance at undergraduate, MBA, and doctoral levels.

Area of teaching interest:

My teaching interests are Theory of Finance, International Finance, Investment Analysis, Financial Derivatives and Risk Management.

Area of research interests:

International Finance and Theory of International capital flows
Stochastic Processes and mathematical modeling of asset pricing, derivative (options and Futures) pricing, and exchange rates.
Efficiency of emerging capital markets
Efficiency and market microstructure of interest rate futures and Currency futures.
E-Finance

Hobbies:

Appreciation of art and beauty, Indian Music, Vedic philosophy, traveling, Reading classics and biographies, and meeting new people.

Role in Indic studies:

Center's Faculty

Message:

I am a strong supporter of the Center for I always marveled at the rich Indian heritage and the highest principles of life embodied in the intellectual and philosophical ancient literature of India. It is unfortunate that many of us are quite ignorant of our own assets and thus unable to represent ourselves justly. Founding of the Indic Center is an enormous visionary stride to restore our lost pride, but more importantly to inform everyone of the Indic ideas and principles that are truly capable of realizing the purpose of our existence, permanent happiness, peace and a harmonious world.