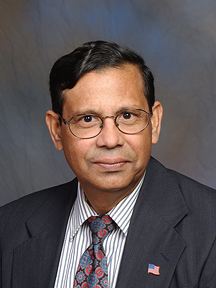 Designation:

Working as a Professor in UMASS Dartmouth's Department of Mechanical Engineering

Area of interest:

Engineering Science & Technology, Writing, Voluntary
Services to the community

Area of specialization:

Engineering Design, Dynamics, Robotics, Vibrations

Hobbies:

Sports Tennis, Badminton, Ping Pong, Traveling, Literature

Role in Indic studies:

Organizing and conducting seminars/programs to educate and highlight the heritage of of India and her contributions in various fields.

Message:

India has a tremendous wealth of her Vedic and Pouranic literature coupled with spiritual knowledge which will holds the secret to solve many of the modern global problems. It's our duty to bring these in the forefront so that the entire world benefits from it and together we become a global family.

"

Vasudhaiva Kutumbakam", "Satyameva Jayate" and "Ahimsa Paromadharma" are truly the Indic traditions and these ideologies hold the key to a world of peace and harmony.