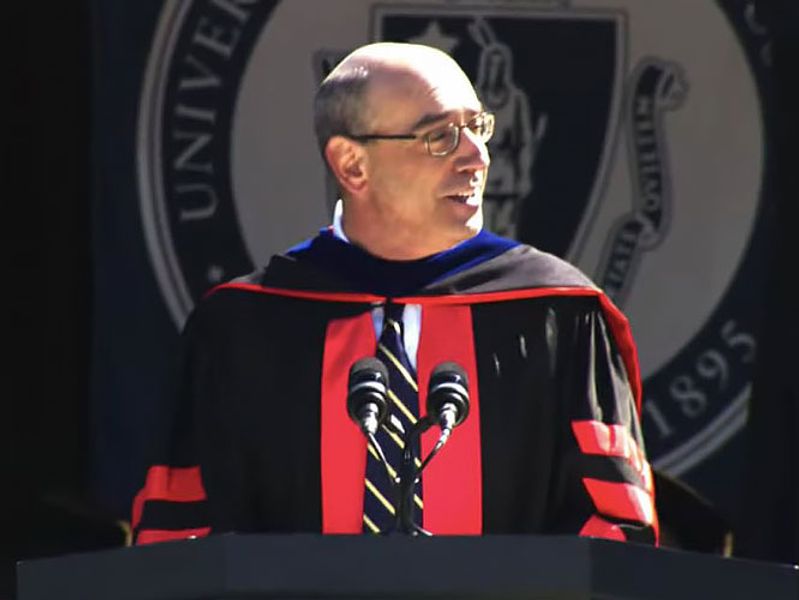 Eric Mitnick
Dean
Law School

508-985-1169
508-985-1104
UMass School of Law 113
Education
| | |
| --- | --- |
| University of Michigan Law School | JD |
Teaching
Torts and Administrative Law
Research
Research awards
$ 75,000 awarded by Executive Office of the Trial Court for Justice Bridge Trial Court FY2023
$ 75,000 awarded by Executive Office of the Trial Court for Justice Bridge Trial Court FY2022
$ 75,000 awarded by Executive Office of the Trial Court for Community Outreach Clinics – Tenants' Rights
$ 100,000 awarded by Executive Office of the Trial Court for Community Outreach Clinics
Research
Research interests
Rights
Liberalism
Sociolegal and multicultural theory
Procedural due process
Professional background
Eric Mitnick has served as dean of the law school since 2016. In that role he successfully led the law school to full ABA accreditation, through the Covid-19 pandemic, and through the law school's successful ABA reaccreditation process. During his time as dean, enrollment has more than doubled, increasing for six consecutive years, while the median LSAT has increased by four points and the median undergraduate grade point average increased from 3.11 to 3.47. Employment outcomes for the law school's graduates increased every year (prior to the pandemic), and the law school's first-time bar pass rate across all jurisdictions has increased every year from 2019 forward.
During Dean Mitnick's tenure, the law school has established nine new 3+3 joint degree programs with undergraduate colleges and universities in Massachusetts and Rhode Island, through which students are able to complete their undergraduate and law degrees in six rather than seven years. UMass Law also became the first law school in the country to partner with the Truman Foundation and established its first semester abroad program with Limerick University in Ireland, as well as a joint JD/MSW degree program with Bridgewater State University.
Capital improvements completed or underway during Dean Mitnick's tenure have included a renovated lobby and art installation; the law school's first high-tech audio-visual seminar classroom; a new student café and lounge; the installation of a dozen new rooftop HVAC units, new wireless infrastructure, and new lactation and gender-inclusive facilities; new classroom seating, furniture, and live-streaming and video capture capabilities; new library study rooms, carpeting, furniture, and technology; and new building security, lighting, and hardscape. Annual fundraising has more than doubled, increasing by 160%. Dean Mitnick received the "Excellence in Academia" award from the Massachusetts Black Lawyers Association in 2017. He also received the Red Mass "Ecumenical Award" from Bishop Edgar Da Cunha, Diocese of Fall River, in 2021.
Dean Mitnick studied history and government as an undergraduate at Cornell University, law at the University of Michigan Law School, from which he graduated with honors, and American politics, public law, and political theory in the Department of Politics at Princeton University, from which he earned master's and doctoral degrees. Dean Mitnick practiced law as an associate with Willkie Farr & Gallagher, a large law firm in New York City, focusing especially on mergers and acquisitions, securities law, directors' liability, and financial litigation.
Prior to joining UMass Law as Associate Dean for Academic Affairs in 2014, Dean Mitnick taught Torts, Administrative Law, Professional Responsibility, and Scholarly Legal Writing at the Thomas Jefferson School of Law, where he also served as Associate Dean for Academic Affairs and was twice recognized as Teacher of the Year by the student body. He has also taught Legal Research and Writing at the University of Wisconsin Law School and Constitutional Interpretation and Civil Liberties as a graduate student at Princeton University. At UMass Law, Dean Mitnick has taught Torts I and II. He was voted Teacher of the Year in 2015 and Administrator of the Year in 2017 by the student body.
Dean Mitnick has also served as an outside reviewer for the American Political Science Review, as a member of the Law & Society Dissertation Prize Committee, been named a Top Attorney by the San Diego Daily Transcript, and received research fellowships from Princeton University and the Mellon Foundation. His doctoral dissertation was published in book form as Rights, Groups, and Self-Invention: Group-Differentiated Rights in Liberal Theory (2006). Dean Mitnick is also the author of several peer-reviewed journal and student-edited law review articles. His article on procedural due process and reputational harm has been cited by the New Hampshire and Vermont Supreme Courts.
Publications
Book
Rights, Groups, and Self-Invention: Group-Differentiated Rights in Liberal Theory (Ashgate Publishing Ltd., 2006).
Articles
Rights, in Encyclopedia of Political Thought (Michael Gibbons, ed., John Wiley & Sons, Ltd.) (2015).
Procedural Due Process and Reputational Harm: Liberty as Self-Invention, 43 U.C. Davis L. Rev. 79 (2009).
Law, Cognition, and Identity, 67 La. L. Rev. 823 (2007).
Differentiated Citizenship and Contextualized Morality, 7 Eth. Theory and Moral Prac. 163 (2004).
Three Models of Group-Differentiated Rights, 35 Columbia Hum. Rts. L. Rev. 215 (2004).
Individual Vulnerability and Cultural Transformation, 101 Michigan L. Rev. 1635 (2003) (reviewing Ayelet Shachar, Multicultural Jurisdictions: Cultural Differences and Women's Rights (Cambridge, 2001)).
Liberalism and Membership, 4 Univ. of Penn. J. of Const. L. 533 (2002) (reviewing Brian Barry, Culture & Equality (Harvard, 2001)).
Constitutive Rights, 20 Oxford J. of Legal Studies 185 (2000).
Taking Rights Spherically: Formal and Collective Aspects of Legal Rights, 34 Wake Forest L. Rev. 409 (1999).