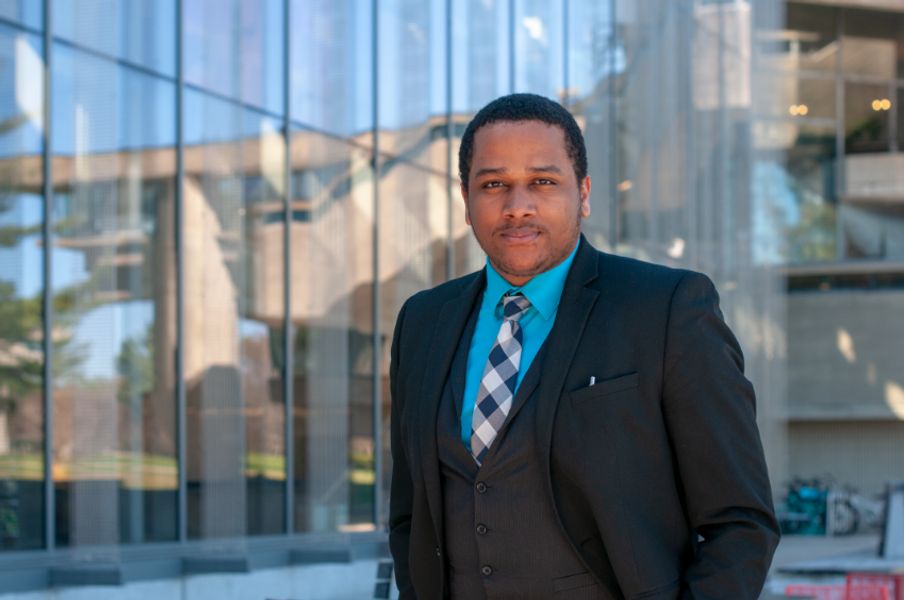 Josue Rivera '19, a native of the Dominican Republic who holds one of the highest GPAs in his computer science major at UMass Dartmouth, was honored at the State House today with the "29 Who Shine Award" from the Massachusetts Department of Higher Education. He is one of 29 outstanding students in the Class of 2019—each representing the 29 campuses of the University of Massachusetts—who were recognized by Governor Charlie Baker.
Rivera was selected for his record of student leadership and civic engagement in the Commonwealth and for exemplifying the mission of public higher education.
Raised in Lawrence, MA, Rivera arrived in the United States in 2011. Five years later, he was named valedictorian of the Math, Science, and Technology Academy at Lawrence High School.
Adjusting to his adopted country was difficult. "I didn't understand what was going on," he said. "In the Dominican Republic, people are outside more. Here, people are in their houses all the time and we are more separated."
He learned in English in two years, mainly by volunteering and practicing during his community service activities.
Learning how things work led to love of engineering and science
Rivera received his first computer when he was eight years old. He would take toys and radios apart to figure out how they worked. He always aspired to be an astronaut and build robots since he loved electronics and robotics. He volunteered to coach his high school's Lego Robotics League team that included his sister and friends.
But choosing a college major was difficult, Rivera said, because he loves all areas of engineering and science. He chose computer science "because it's the most diverse and you can work in many industries."
An Endeavor Scholar and Honors Student, Rivera currently holds a 3.95 GPA. He has taken six classes a semester for the last five semesters.
He hopes to finish both his bachelor of science and master's degrees early by the spring of 2020. Rivera aspires to earn a doctorate at the Massachusetts Institute of Technology and work for a small technology company like Deep Mind or create his own enterprise.
This summer, Rivera is one of ten students selected to spend ten weeks at the University of Texas in Dallas doing research on software reliability and applicability as part of a Research Experiences for Undergraduates grant sponsored by the National Science Foundation.
For his capstone project, Rivera is working with a startup company to develop a smartphone app that can create a 3D model of a person's feet and find their measurements. The app can be used to create custom shoes that can be adjusted for specific comfort and/or therapy and is especially helpful for those with foot deformities.
He was a member of the CIS team that won the PerkinsHacks 2018 competition at the Perkins School for the Blind by creating a medical form for the visually impaired. This spring, he and his team were the runner up at the Data Fest held at Bryant University in the Best Insight and Best Use of External Data categories.
Involved student and active volunteer
Rivera is actively involved with the Leduc Center for Civic Engagement as an advisory student representative, partnering students with community organizations. He volunteers to teach a STEM class for elementary and middle school students at the Fall River YMCA and for Jeanne's Cupboard (formerly Arnie's Cupboard), the UMass Dartmouth food pantry.
He credits Deirdre Elizabeth Healy, director of the Office of Community Service and Partnerships at the Leduc Center, for her support. "Everyone at the center, specifically Deirdre, has been like a family to me and given me a home away from home. They have pushed me to be the best version of myself that I can be."
Rivera tutors first-year students and is a College of Engineering representative and civic engagement chair of the Student Government Association. He also serves as chair of the Anime Club, the university's animation club that is part of the Gaming Society, and serves on the Gaming Society executive board. He is next year's treasurer of the Big Data Club and is a delegate for the UMass Dartmouth Model United Nations.
Rivera received a Newman Civil Fellowship from Campus Compact for his leadership and civic engagement.
"Community service is a nice way to meet people and practice my English," said Rivera. "It's fun. I hear interesting stories, stories that matter."
When he isn't busy studying or volunteering, you can find Rivera painting or sharpening his billiard skills in the Campus Center. He even carries a special backpack to hold his pool sticks. "I'm the second-best pool player at the school," he said, laughing. "It helps with the stress."