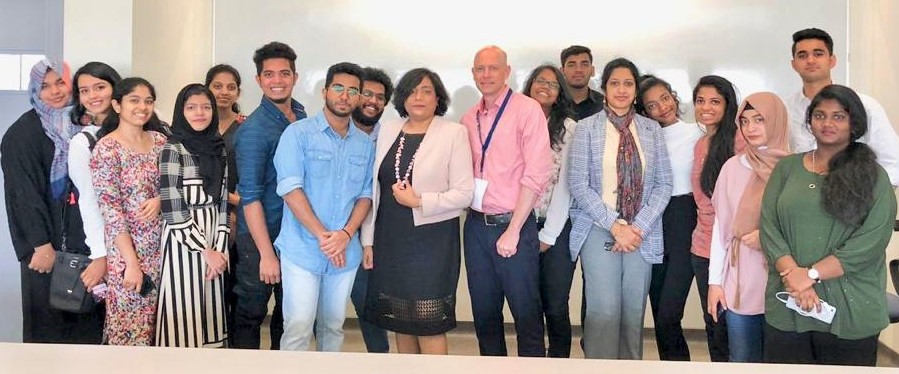 Professor Rick Peltz-Steele delivered a plenary address at a conference of mass communication scholars in Dubai and attended a global conference of digital human rights advocates in Tunisia.
Amity University Dubai hosted the inaugural International Conference on Current Practices and Future Trends in Media Communication from June 17 to 19. The conference gathered mass communication and interdisciplinary scholars from around the world at Amity's campus in Academic City, in the United Arab Emirates state of Dubai. Amity is a private research university based in India.
For the opening day of the conference, Professor Peltz-Steele was invited to give a plenary address on legal responses to the problem of misinformation and disinformation, or "fake news." Peltz-Steele surveyed law and policy devices from public education to criminal sentencing, focusing on case studies selected from the United States, Europe, India, and North Africa.
While at Amity, Peltz-Steele also met with Dr. Geetanjali Chandra, head of the Amity Dubai law school, and a class of her law students. With the class, Peltz-Steele talked about evolving common law media torts in the United States and answered questions about American legal education and the global job market for lawyers.
En route to the Middle East, Peltz-Steele stopped in North Africa to attend the RightsCon Summit. RightsCon annually gathers more than 3,000 activists, scholars, public officials, and industry professionals for "the world's leading event on human rights in the digital age." The conference was founded in Silicon Valley in 2011 and is a program of the global human rights advocacy group, Access Now.
At RightsCon, Peltz-Steele attended sessions with representatives of major media companies, such as Google and Facebook, as well as the U.N. special rapporteur for freedom of expression. Peltz-Steele also met in Tunis with American colleagues from the Electronic Frontier Foundation, an international digital rights group based in San Francisco.
Peltz-Steele tweeted from the Middle East and North Africa and wrote about Amity Dubai and about RightsCon on his blog, The Savory Tort.
---