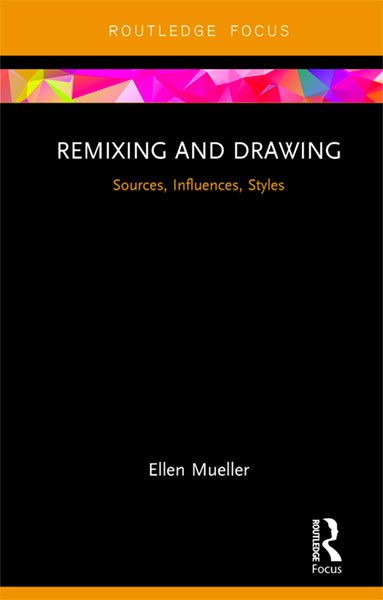 Ellen Mueller, a faculty member at UMass Dartmouth's College of Visual and Performing Arts, has recently published a textbook with Routledge Focus entitled, Remixing and Drawing: Sources, Influences, Styles. This succinct book articulates a clear framework for remixing and drawing at intermediate and advanced levels.
The book begins by walking through the ideas of copyright and fair use, providing context and examples for students. Mueller directs students through building a collection of sources and influences, leading to the development and analysis of visual style. With a full chapter on techniques, including approaches to brainstorming, critique, and reflection, this book features over 50 exercises that are easily adapted to various approaches, media, and technologies as necessary. Two sample syllabi are included for both a semester and a quarter system.
Remixing and Drawing also has a companion website (http://remixinganddrawing.com) with color reproductions from the book, an interactive timeline, links to all websites for artist interviews, and additional tools such as a free PDF zine-download on appropriation and fair use.
The book was written in part during a three-week artist residency at PLAYA in Lake County, Oregon, which was partially funded by a West Virginia Division of Culture and History Training and Travel Grant. The manuscript continued to evolve during a two-month artist residency at Bunker Projects in Pittsburgh, Pennsylvania and a one-month residency at Künstlerhaus Lukas in Ahrenshoop, Germany. Many of the images in the book were made possible by Mueller's drawing students in courses during 2010, 2013, and 2017.
Mueller has exhibited nationally and internationally as an interdisciplinary artist exploring issues related to the environment, hyperactive news media, and corporate management systems. She creates experiences that engage with social and political issues through a variety of media. She is a lecturer of studio art and social practice at the University of Massachusetts Dartmouth. She previously published Elements and Principles of 4D Art and Design (Oxford University Press 2016).
For more information about the project, please contact Ellen Mueller, at emueller1@umassd.edu.