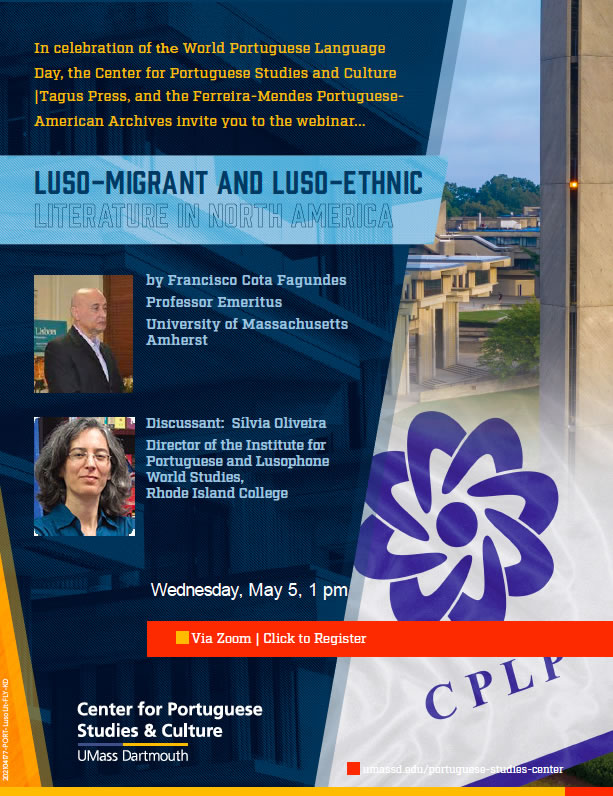 Dear Friends,

Please join us and the Ferreira-Mendes Portuguese-American Archives for a virtual presentation by Prof. Francisco Cota Fagundes titled "Luso-Migrant and Luso-Ethnic Literature in North America," with the special participation of Prof. Sílvia Oliveira.
This presentation aims to contribute to the history of Luso- e / immigrant and Luso-ethnic literature in the U. S. and Canada, which is viewed as one literature separate from other migrant and ethnic Portuguese-language literature(s). It will identify four distinct and, in some cases, concurrent phases or generations. As one would expect, this minority literature reflects economic and political conditions in Portugal, as well as American political attitudes towards immigration in the United States.
Wednesday, May 5, 2021, 1 p.m.
Via Zoom
Registration Required – Register HERE
Francisco Cota Fagundes, Professor of Portuguese (Emeritus) at the University of Massachusetts Amherst, has authored, edited and co-edited, translated and co-translated more than thirty books. Translator and creative writer, he has translated from English to Portuguese and from Portuguese into English. Prof. Fagundes was born in Agualva, Terceira, Azores, and emigrated to the United States in 1963. Having completed the fourth grade in his native country and never having attended a secondary school either in Portugal or the U.S., he attended the Los Angeles Valley Junior College (1967-1970;magna cum laude), the University of California, Los Angeles, where he earned a double B. A. (1972:summa cum laude), an M.A. in Luso-Brazilian Studies (1973) and a Ph.D. in Hispanic Languages and Literatures (1976). Prof. Fagundes is the Tagus Press co-editor of the Portuguese in the Americas series.

Sílvia Oliveira is Associate Professor of Portuguese Studies at Rhode Island College and coordinates the Portuguese Studies Program in the Modern Languages Department. She is also the Director of the Institute for Portuguese and Lusophone World Studies at RIC. She has published and presented on the Portuguese short story of the 1960s, Neo- and Post-Neorealism in Portugal, Aesthetics and Politics in Portuguese, Lusophone African and Brazilian Literature, and pedagogy of Portuguese language and Lusophone cultures. Her current research interests and publications include Portuguese-American literature and the pedagogy and politics of ethnic studies; and Portuguese-American civic organizing in the US.
- View the flyer of this Webinar
---