Friend of Nursing - Dr. Tim Su
Each year, the Theta Kappa Chapter of the Sigma Theta Tau International Honor Society of Nursing recognizes an individual who is not a member, but has contributed to the long-term significance of the chapter, the nursing profession, and/or the health of people in the region, with the Friend of Nursing Award. This year, chemistry professor, Dr. Timothy C. K. Su was selected as the recepient of this honor. The award was presented at the College of Nursing Honor Society Induction ceremony held on Sunday, April 28 at White's of Westport.
Dr. Su received his Ph.D. in physical chemistry from Wayne State University before joining the UMassD faculty in 1975. He has published 48 scientific articles in peer-reviewed journals and seven book chapters. He has received numerous awards for his excellence in teaching including the C. N. Wu Chemical Educator of the Year, the Leo M. Sullivan Teacher of the Year, Professor Extraordinaire by the Nursing Class of 2007, Outstanding Faculty Member by the Greek Community at UMassD, and is an Honorary Member of the Golden Key International Honor Society.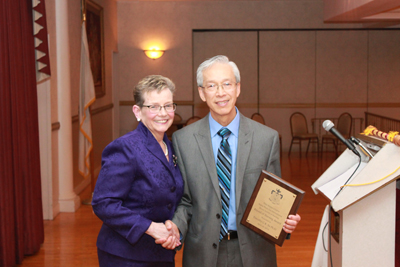 Dr. Su receiving the award from chapter president Maureen Plunkett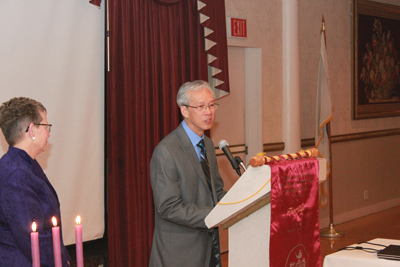 Dr. Su giving a few words of appreciation