SENIOR SEMINAR EXHIBITION 2013:
UMASS Dartmouth - Concrete Dreamin'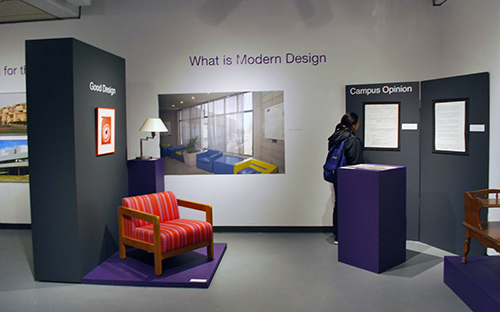 In 2013, art history students focused on the contextual influences within a cultural and historic framework on Paul Rudolph, renowned modernist architect of the University of Massachusetts Dartmouth campus. The art history students research, develop the interpretative framework of the exhibition, created and executed the exhibition design and audience response and produced an exhibition catalog, entitled UMass Dartmouth Concrete Dreamin. The art history senior seminar students also participated in Chancellor's Inauguration Session, Embracing the Concrete, comprised of past and current architects of the UMass Dartmouth campus along with guided tours of UMassD campus. The Art History Senior Seminar exhibition was held at CVPA Gallery, April 16 -21, 2013,as part of course developed by Dr. Anna Dempsey and Allison Cywin, MLIS.
Participating Students
Seth Abrahamson
Athia Landry
Allison Latina
Jenniefer Lipinski
Leah Loftus
Ashleigh Mota
Katie Mrazik
Claire Munley
Danielle Poulin
Courtney Rodrigues
Steve Scallon
Leni Stoeva
Conor Szarek