SENIOR SEMINAR EXHIBITION 2017:
Making Her Mark (late nineteenth-century to early twentieth-century women artists)
April 12 – April 29, 2017
Department of Art History – Capstone University of Massachusetts Dartmouth -Main Campus Art Gallery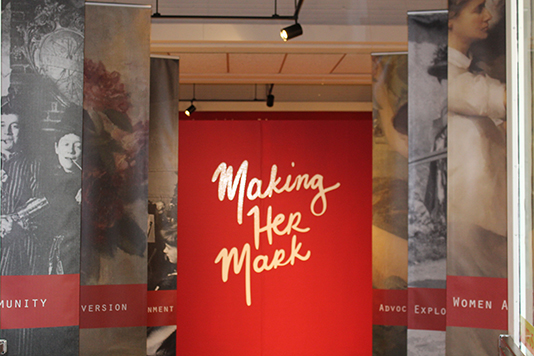 Making Her Mark is an exhibition highlighting late nineteenth-century paintings, illustrations, books, and sculptures by Rhode Island women artists and their contributions to the modernity narrative. The exhibition focuses on a group of women artists who were instrumental in the establishment of one of the first American art clubs, The Providence Art Club, that accepted women as equal members, as active board members and as artistic colleagues. Over the course of the later half of nineteenth century women artists, such as Rosa Peckham, Emily McGary Selinger, Helen Watson Phelps, Emma Swan, Charlotte Gilman, Mary C. Wheeler, and Sophia Pitman, along with other female artists, worked, traveled, and exhibited alongside their male contemporaries. Many of these women pursued opportunities to show their artworks in salons and galleries in the United States and abroad, including Paris and London. These remarkable women, artists, suffragettes, art instructors, authors, and community leaders help form and contribute to the regional and national artistic and cultural conversation. The exhibition celebrates these women artists and recognizes their struggles as well as their accomplishments to the American history.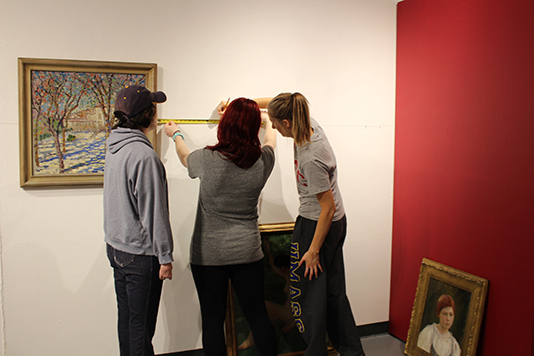 The exhibition is part of the capstone experience where students work in teams and apply their academic and professional knowledge to a real world experience. This is the 6th year that Dr. Anna Dempsey and Allison J. Cywin, art history professors, have directed a group of upperclassmen to execute a professional museum quality exhibition and publication. This student-run exhibition explores the definition of modernity and focuses on feminine artistic communities in Providence. This exhibition is made possible through the generous support of the Providence Art Club.
Presentation: Making Her Mark - UMass Dartmouth - Art History Capstone Experience

Publication: Making Her Mark (PDF)
Participating Students:
Jonathan Alumbaugh
Marc Arbitelle
Victoria Arons
Joseph Barros
Katherine Harris
Jessica Lappin
Meaghan O'Neill
Jocelyn Pacheco
Colleen Schofield
Aaron Souza
Mariah Tarentino
Kimberly Thompson
Amanda Ward

Acknowledgements:
Dr. Anna Dempsey and Professor Allison J. Cywin would like to extend their gratitude to the Providence Art Club, Catherine Little Bert, Nancy Whipple Grinnell, Christopher Ratcliffe, Leigh Holmes and Michael Rose for allowing them to reinterpret the PAC March exhibition, Making Her Mark. A very special thanks goes to the Providence City Hall, The Wheeler School, the Moses Brown School, Providence Art Club, and the private collectors who allowed the University of Massachusetts Dartmouth to showcase works by these significant nineteenth century New England women artists. We acknowledge Dr. Cathy Smilan for her many contributions to our seminar course. Once again, this endeavor was truly a community effort.