SENIOR SEMINAR EXHIBITION 2015:
Women Artists: An Untold Story (1880 – 1940)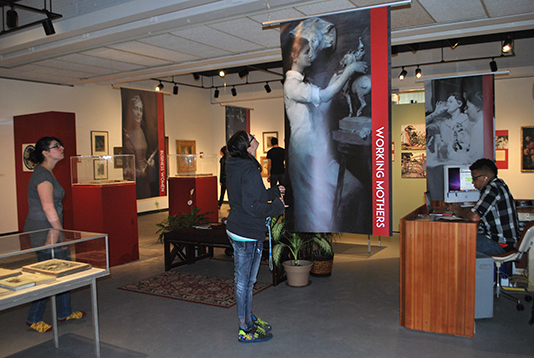 Women Artists: An Untold Story is the project of the Art History Senior Seminar class, composed of fourteen upperclassmen in art history. Students obtained valuable scholarship and professional skills by conducting extensive archival research, assist with writing and editing of an exhibition catalog and executed a museum quality exhibition.
Women artists represented: Grace Arnold Albee, Allen Sisters (Frances and Mary), Blanche Ames, Anna Richard Brewster, Theodosia Chase, Eliza Draper Gardiner, Elizabeth Shippen Green, Ellen Day Hale, Lena Newcastle, Angela O'Leary, Helen Watson Phelps, Jessie Wilcox Smith, Alice Barber Stephens, Emma Swan, Sarah Wyman Whitman, and Mabel May Woodward.
Participating Students:
This class has allowed students to develop their skillset within the fields of art history and museum studies, including research, writing, design, curation, registration, collection care and visitor relations.
Oskar Augustowski
Johnus Derby
Betsey Janus
Monica Lopes
Danielle MacNeil
Anna Maravalli
Colleen McLean
Adrien Mercier
Derek Murphy
Amanda Pacheco
Miranda Phelan
Rachael Stillman
Gabrielle Sullivan
Joseph Tavares
Course developed by Dr. Anna Dempsey and Allison Cywin, MLIS
Special Thanks:
Dr. Anna Dempsey and Ms. Allison J. Cywin would like to extend our gratitude to the Providence Art Club members, especially to Frederick R. Mattis, the Chair of the Collection Committee, who spent many hours sharing his knowledge of the collection and the club's history. We would like to thank the Providence Art Club's staff members, Michael Rose and Traci Lee, whose help was invaluable. We would also like to thank Daniel Mechnig, former President of the Providence Art Club, whose insights and stories about the Club and the women who participated in it were especially enlightening. We give special acknowledgement to Cathy Little Bert of Bert Gallery in Providence, RI who spent most of her career educating the community on the important contribution these women have made to the art world. Her encouragement and guidance was instrumental in the development of this exhibition.
Acknowledgements:
Special thanks to the following organizations for their support and for their generous loans to the exhibition.
Archive and Special Collection at the University of Massachusetts Amherst
Bert Gallery, Providence, RI
Boston Public Library
Claire T. Carney Library at the University of Massachusetts Dartmouth
New Bedford Free Public Library
Pettaquamscutt Historical Society
Providence Art Club, Providence, RI
The Providence Athenaeum, Providence, RI
Sophia Smith Collection at Smith College
W. E. B. Du Bois Library at the University of Massachusetts Amherst
We would like to acknowledge Graphics Innovations and Scott Glowa, a UMass
Dartmouth Alumnus, who provided the graphic materials for the exhibition.