Art History 5th Annual Undergraduate Symposium 2016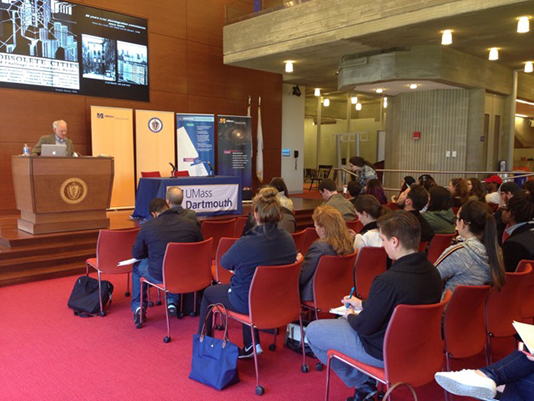 The Destruction of Art (Past and Present)
International Undergraduate Student Symposium
Art History Department, College of Visual and Performing Arts University of Massachusetts Dartmouth
April 14, 2016
Claire T. Carney Library, the Grand Reading Room
Works of art can be damaged or destroyed via natural processes, accidents, or intentional human action. The deliberate destruction of art and architecture and cultural heritage is an old practice, going as far back as the time of the Byzantine Empire when iconoclastic practices took place. In addition to religious drives, ideological persuasions have led to the destruction or obliteration of art. For example, the destruction and censorship of avant-garde art by the Nazis was a political response to progressive thinking. Paintings by Gustave Courbet and Gustav Klimt were inadvertently destroyed during WWII aerial bombings. In addition to state-sponsored defacing of art, in recent years works by Leonardo, Mark Rothko and others have been stabbed, shot, tagged and otherwise vandalized by everyday museum goers.
Recently, we have also seen many precious historic sites obliterated by radical groups. The destruction of cultural heritage of the Middle East by ISIS has become a pressing issue amongst scholars worldwide. More than ever before scholars have begun to consider ways to prevent art and artifacts from being destroyed.
It is in light of such developments the 2016 Art History undergraduate symposium at the University of Massachusetts Dartmouth was focused on the theme of the destruction of art.
Keynote
Daniel M. Abramson - Associate Professor of Art History and Director of Architectural Studies, Tufts University
"Obsolescence in Architecture"
https://youtu.be/wMXol9i2Hqs
Student Panel
Allison Geremia - UMD alumna, Transart Institute through the University of Plymouth, UK
"Disappearance of Objects"
https://youtu.be/6hOa5kylkNA
Laura Ryan - UMD alumna, MIT, Cambridge MA
"Repetition and Decay in William Basinski's Disintegration Loops"
https://youtu.be/Yd4MBilNCGY
‌‌