Giulio Massano (Obituary)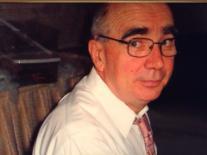 Dr. Giulio Massano, 72, of North Dartmouth, MA, passed away at home on April 10, 2014 after a long and valiant battle with multi-system atrophy. He was the husband of Suzanne J. Pelletier Massano of North Dartmouth, and the son of the late Filippo and Elisabetta (Ravera) Massano of Cuneo, Italy.
Born in Sant' Albano Stura, Cuneo, Italy on May 5, 1941, Dr. Massano entered the seminary in Italy at a young age. He received his Bachelor's Degree in 1968 from Studium Theologicum in Torino, Italy, continued his studies in the seminary, and at age 24 was ordained as a Roman Catholic priest in the Missionary Order of the Consolatas. He was immediately sent to Bogotá, Colombia where he taught languages in the Consolata seminary and served in local parishes, as well as in remote jungle villages. During that same period, the cruel and hostile political climate and unrest in Colombia resulted in the murder or execution of many individuals, including missionaries. After several years, Padre Massano made the difficult and painful decision to leave Colombia and the priesthood altogether to start a new life in the United States. After a short stay with a fellow seminarian in New York City, he went to Washington D.C. where he enrolled in Catholic University of America, and received his PhD in 1973, specializing in Spanish and Italian Literature of the Middle Ages, Renaissance and Baroque. While in the Washington area he also taught Spanish and Latin in several private schools.
In 1974, Dr. Massano was hired to teach at Southeastern Massachusetts University, now the University of Massachusetts Dartmouth, as professor of Spanish, Italian, and Latin. Professor Massano quickly became an extremely popular and dynamic instructor who taught from the heart and was admired and esteemed by all for his gentle smile, his unpretentious ways, and his total acceptance of all individuals. In his almost 40-year career at UMass Dartmouth, Professor Emeritus Giulio Massano mentored and touched the lives of thousands of students, and he was responsible for the development and nurturing of so many present Spanish and Italian teachers in the South Coast region today. None of his students would ever forget "Professore's" Cinco de Mayo birthday that he so loved to celebrate, all day, class after class, with all his students. He loved every moment and was so grateful for his teaching career, for he knew in his heart that it was his true calling in life. In addition to teaching at UMass, he was also Chairperson of the Foreign Language Department for 11 years, longer than any other Chair. He also taught ever-popular classes of Italian and opera in the community for many years.
Dr. Massano had several heroes and passions in his life, and he loved to share them with all who crossed his path. First was Italian composer Giuseppe Verdi. Never did an Italian student leave his class without knowing about Verdi and experiencing the full richness of Italian opera. His Spanish students were enthralled by the adventures and tales of his likeness, the ingenious gentleman Don Quixote de la Mancha. Never did he see a western movie he didn't like (unless it was disparaging to Native Americans), but especially if it starred the infamous Randolph Scott. And finally, and without exception, everyone who knew him became familiar with "Juventus," for no Italian soccer team ever had a bigger fan.
In addition to his wife, he leaves behind a son, a daughter-in-law, and two grandchildren; in Cuneo, Italy, a brother and sister and their spouses. He was predeceased by a sister, Sister Efrem Marianna Massano, who was also a Consolata missionary, and a brother, Gino. He also leaves behind many nieces and nephews in Italy, as well as his former wife, Donna.