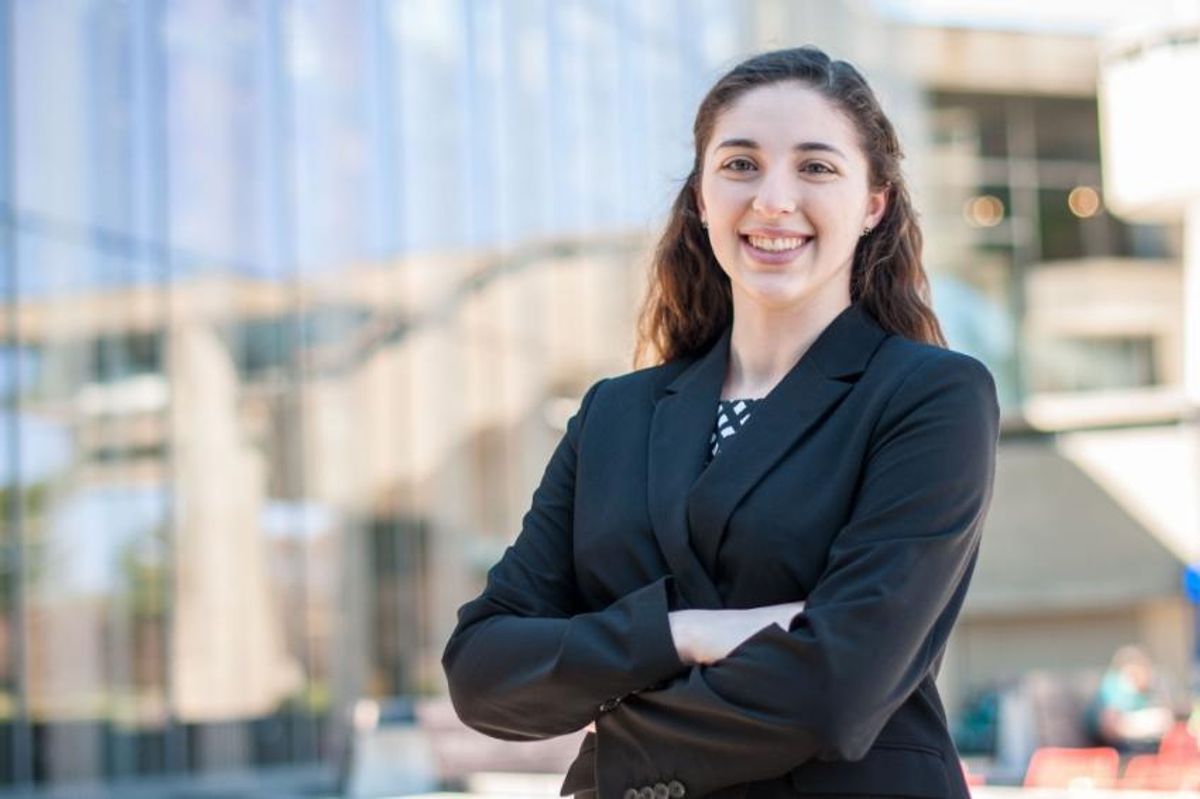 College of Engineering stories
Megan Scribner '19: Researcher, volunteer, and advocate for future female engineers
Encourages STEM careers through outreach activities
Mechanical engineering major Megan Scribner '19 loved building so much as a young child that she would construct towers with her grandmother's Readers Digest books. In college, she encouraged young female students to explore engineering through fun, hands-on activities, just as she did with those old books.
An active volunteer and undergraduate researcher at UMass Dartmouth, Scribner has explored various topics in engineering, earning a top research prize at Texas A&M University. This fall, she will pursue graduate studies at Boston University in product design and manufacturing, an area of interest she developed through her research.
Early interest in math and science
Scribner's early interest in math and science led her to begin engineering classes in middle school. After taking a hands-on engineering elective course in high school, Scribner decided to pursue an engineering career.
She chose UMass Dartmouth for its New England location and because "I liked the feel of the campus. I could see myself as a student here," Scribner said.
Academic success and diverse undergraduate research experiences
A Commonwealth Scholar who was also named to the Dean's and Chancellor's List, Scribner recently received an Academic Excellence Award for earning the third highest GPA in mechanical engineering.
Last summer, she was awarded an Office of Undergraduate Research (OUR) summer stipend for a joint mechanical engineering research project with Garret Sampel '19 and their advisor, Jun Li, assistant professor of mechanical engineering.
The project, "Simulation Based Optimization of 3D Polymers" involved using machine learning methods and tools to determine the effect of variables such as speed, temperature, and direction on a final product produced by simulated 3D printing. The variables can be optimized to produce a part that has a minimum amount of residual stress.
Scribner worked with Tracie Ferreira, assistant professor of bioengineering, for her honors thesis, which was presented at the 2019 Sigma Xi Research Exhibit. "An Investigation into the Effects of Inverted Growing on the Development and Strength of Basil" aimed to determine whether an inverted planting orientation affects plant strength and improves crop yields.
During the summer of 2017, Scribner participated in a Research Experience for Undergraduates at Texas A&M University. She worked on a project funded by the National Science Foundation and NASA on shape memory alloys, materials that can return to their original shape after being deformed.
"It was my first academic research experience," said Scribner. "The lab students were very passionate about the work they were doing and got everyone really excited. I learned to problem solve while faced with an issue. It was a great educational experience."
Scribner won first place for the presentation of her summer research project in the Undergraduate Engineering Summer Research Symposium at Texas A&M. Based on her research contributions, she will be a co-author on a paper that has been submitted to Scripta Materialia, a peer-reviewed scientific journal.
For her senior capstone project, "Accelerometer Survivability Testing," Scribner and her team worked with BTech Acoustics to determine the failure point of BTech sensors through impact testing. Her team won "Best Project Video Award" at the Senior Design Presentation.
Supporting future engineers
As a STEM ambassador, Scribner represents the College of Engineering at local events that promote STEM enrichment with young students.
"I like being able to pose scientific problems and questions to young students and seeing how their creative minds work through them," she said.
Scribner has also volunteered at STEM4Girls events hosted by the Kaput Center and the 2018 National SeaPerch Challenge hosted at UMass Dartmouth.
"I want to encourage young female students to pursue careers in STEM by showing the link between science and fun with engaging, hands-on activities. Events such as these help young female students stay interested in STEM by letting them interact and explore," Scribner said.
Future plans include R&D
"My undergraduate experience at UMass Dartmouth has been thoroughly enjoyable. I learned from and worked with faculty who are passionate about their work. I have made great friendships not only in my classes but through my involvement in campus clubs and extra curriculars. And I have learned technical skills that I will take with me into graduate school and my future career," Scribner said.
While Scribner is considering a career in research and development, she hopes to continue her involvement with engineering enrichment efforts. Some old copies of Readers Digest just might inspire another future engineer.