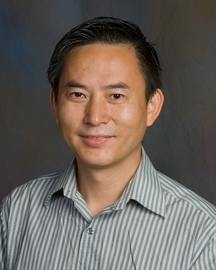 Dr. Honggang Wang (Lead PI) of the Department of Electrical and Computer Engineering (ECE) received a three-year $424K research grant from the National Science Foundation (NSF). This joint project among UMass Dartmouth (lead PI, $155,912), Worcester Polytechnic Institute (PI: Lifeng Lai, $148,416) and University of Arkansas Little Rock (PI: Shucheng Yu,$120,268) will support Dr. Wang's research efforts in developing a Physical-Channel Based Lightweight Authentication System for Wireless Body Area Networks. The award titled " CCSS: Developing A Physical-Channel Based Lightweight Authentication System for Wireless Body Area Networks " was awarded by both the Communications, Circuits &Sensing System (CCSS) and Secure & Trustworthy Cyberspace (SaTC) programs and is for three years from September 2014 through August 2017.
The goal of this research project is to develop a lightweight authentication system for resource-constrained Wireless Body Area Networks (WBANs). The proposed research aims at realizing physical layer security approaches for WBANs and developing innovative key agreement and message authentication mechanisms. Unlike existing approaches (e.g., biometric-based approaches), the proposed authentication system does not require additional hardware, error reconciliation process and bit synchronization, and thus is suitable for resource-constrained and capacity-limited medical sensor nodes in WBANs. The project will implement the proposed physical layer security approach in a real resource-constrained WBANs system and investigate the practical system performance limit through experiments. The findings from the project can provide guidelines for physical-channel based security system design and deployment of WBAN applications.
Dr. Wang received his Ph.D. from the University of Nebraska - Lincoln in 2009. In 2009, he joined the ECE department as an assistant professor.