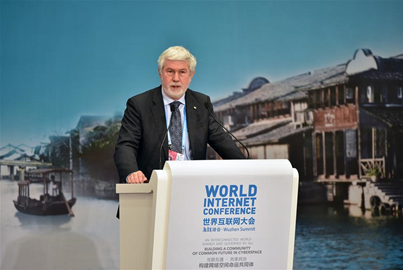 The 2nd World Internet Conference, took place Dec 16 -18, in Wuzhen, Zhejiang, People's Republic of China. The event was hosted by the Cyberspace Administration of China and the Zhejiang Provincial Government. Well-known international organizations, including the Department of Economics and Social Affairs of the United Nations, the International Telecommunication Union, World Intellectual Property Organization, and the World Economic Forum, were co-organizers for the conference.
Chinese President Xi Jinping attended and delivered a keynote speech at the opening ceremony of the conference. More than 2,000 guests attended the conference. Eight state leaders, including Russian Prime Minister Dmitry Medvedev and Prime Minister of Pakistan Nawaz Sharif, about 50 ministerial-ranked officials, leaders of over 20 important international organizations (ITU, GSMA, ICANN etc.) also attended. Prior to the opening ceremony, President Xi met and posed for a picture with 80 of the dignitaries.
IEEE president Howard E. Michel, IEEE-SA president Bruce Kraemer, Senior Director of IEEE Asia Global Business Development Ning Hua and IEEE standard manager Meng Zhao attended the event.
Howard as the speaker attended cyberspace governance forum and gave 10 minutes speech. About 500 people attended this session. Howard also delivered 5 minutes speech at the closing ceremony. The closing ceremony was televised live in China.
Their talks gave a strong voice to the world internet community of the importance of technology and technologists on the development, governance and future of the Internet. IEEE called on technologists and policy makers around the world to preserve and ensure the potential value of the Internet, and promised that IEEE will continue to work toward trust through transparency, technical community building, partnership across regions and nations, service to humanity and of integrity.