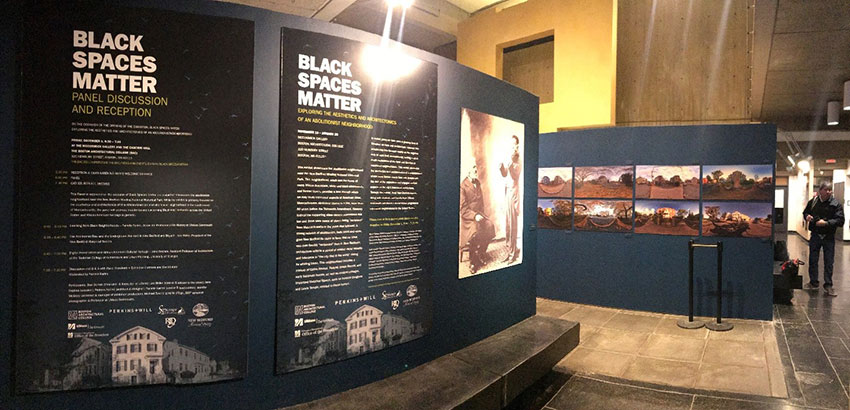 This exhibit showcases the abolitionist neighborhood near the New Bedford Whaling National Historical Park. This neighborhood, which was the home of many African-Americans, white and black abolitionists, and former slaves, provides a lens through which we may study interracial aspects of American cities. Massachusetts abolished slavery in 1783, more than 80 years before the Thirteenth Amendment; however, federal law supporting slave owners superseded this law and there were cases of slaves being "reclaimed" from Massachusetts in the years that followed. A strong network of abolitionists, both black and white, gave New Bedford its claim to fame that no slave was ever forcibly "reclaimed" from it.
New Bedford's architecture reflects a period of relative racial equality and tolerance in "the city that lit the world" during its whaling boom. This neighborhood includes a mixture of Gothic Revival, Federal, Greek Revival, and early Italianate homes, as well as modest cottages. Important historical figures, such as Fredrick Douglass and Lewis Temple, resided in these homes.
In recent years we have seen a growing body of literature on race and architecture; however, this scholarship has focused mostly on the negative side of such built environments; lacking is an in-depth exploration of the form and function of interracial neighborhoods. This exhibit celebrates the aesthetics and architectonics of a neighborhood where many former slaves lived side-by-side with the rest of the population and engaged multiple aspects of the city's interracial architecture. Through this exhibit, local New Bedford experts along with students and faculty from UMass Dartmouth and the BAC will reveal a lesser-known progressive interracial neighborhood in the United States.
Lead curator: Pamela Karimi | Architectural renderings, model production, and maps: Pedram Karimi | Film, animation, and digital curation: Don Burton | 360° panoramic photos: Michael Swartz | Graphic design: Michael Swartz | Digital stations: Michael Swartz, Don Burton, Ben Guan-Kennedy | Production manager: Jennifer McGrory | Consultant & research advisor: Lee Blake | Curatorial assistants: Students from UMass Dartmouth and the Boston Architectural College.
On the Occasion of the Opening of the Exhibition, Black Spaces Matter, there will be a panel and reception on Friday December 1, 5:30-7:30.
The Panel is organized on the occasion of Black Spaces Matter, an exhibit that showcases the abolitionist neighborhood near the New Bedford Whaling National Historical Park. While the exhibit is primarily focused on the aesthetics and architectonics of this African-American and abolitionist neighborhood in the south coast of Massachusetts, the panel will address broader issues concerning Black neighborhoods across the United States and African-American heritage in general.
Panel Schedule
Presentations | 6:00pm-7:10pm. Moderated by Pamela Karimi

Learning from Black Neighborhoods | Pamela Karimi, Associate Professor of Art History at UMass Dartmouth.
The Abolitionist Row and the Underground Railroad in New Bedford and Beyond | Lee Blake, President of the New Bedford Historical Society.
Digital Preservation and African-American Cultural Heritage | Jana Cephas, Assistant Professor of Architecture at the Taubman College of Architecture and Urban Planning, University of Michigan.

Discussion and Q&A with Panel Speakers + Exhibition Curators and Contributors | 7:10pm-7:30 pm. Moderated by Pamela Karimi
Participants: Don Burton (filmmaker & Instructor at UConn); Lee Blake (speaker & advisor to the show); Jana Cephas (speaker); Pedram Karimi (architect & designer); Pamela Karimi (speaker & lead curator); Jennifer McGrory (architect & manager of exhibition production); Michael Swartz (graphic designer, 360° spherical photographer & Professor at UMass Dartmouth).

This exhibit is supported by a Creative Economy Fund from the Office of the UMass President, UMass Dartmouth's Provost Office, Perkins + Will, The Spinner Publications, New Bedford Historical Society, and the Boston Architectural College.

For more information go to: Black Spaces Matter