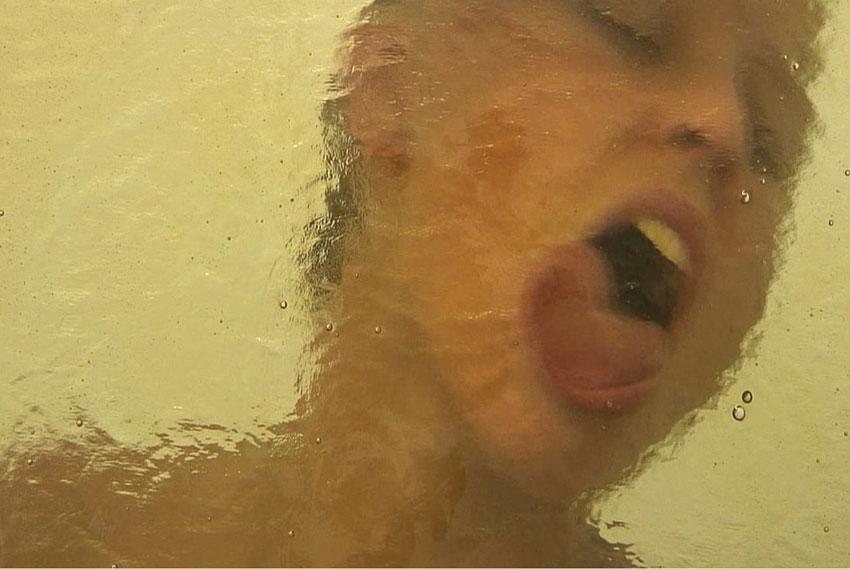 Artists: Elizabeth Willing, Hannah Raisin, Martynka Wawrzyniak, Nina Ross, Hillerbrand+Magsamen
Video works by five artists will be on view during Mouthfeel, an exhibition at the UMass Dartmouth College of Visual and Performing Arts' Upper Gallery, February 15 - March 9, 2018. A reception will be held Thurs, Feb 15, 4-6 pm. Visiting the gallery is free and available Monday - Thursday 10:00 am-4:00 pm, and Friday 10:00 am-12:00 pm.
Mouthfeel is defined as the physical sensations in the mouth created by food or drink. The objective of this exhibition is to stimulate a synaesthetic response in the viewer through the observation of these films. The mouth is used by these artists to trigger the sense of taste and touch by the ingestion of edible and non-edible substances. The videos feature a variety of actions, from the monotonous task of licking through a pane of cast sugar, to ingesting a bouquet of roses.
The five films selected for this exhibition by curator Megan Fizell include performative actions by four female artists and one male/female collaborative work: Elizabeth Willing, Hannah Raisin, Martynka Wawrzyniak, Nina Ross, and Hillerbrand+Magsamen. Mouthfeel has previously been viewed at Brenda May Gallery in Sydney, Creative Industries Precinct at Queensland University of Technology in Brisbane, and Northern Centre for Contemporary Art in Darwin (all in Australia).
For more information about the project, please contact Ellen Mueller, at emueller1@umassd.edu.