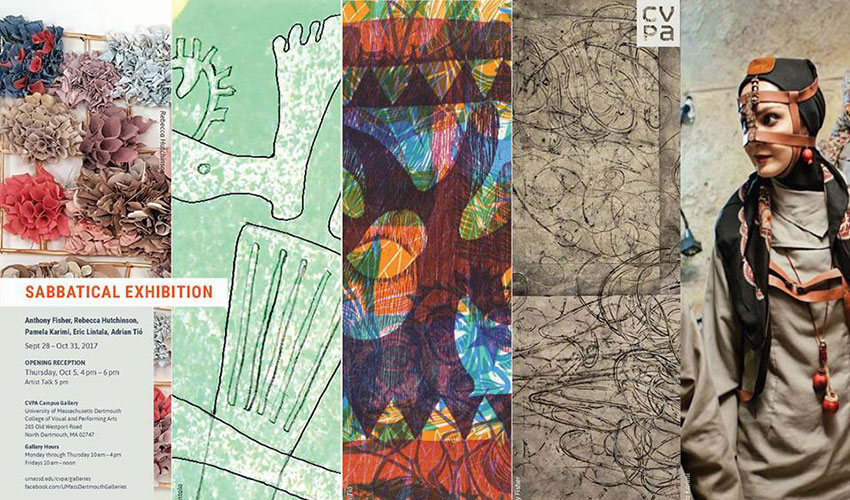 September 28 – October 31, 2017

The Sabbatical Exhibition at the CVPA Campus Gallery presents five UMass Dartmouth faculty and the results of their investigations into their creative process in art and art history. The reception with an Artist Talk takes place on Thursday, October 5 from 4 to 6 pm. Rebecca Hutchinson, Anthony Fisher, Adrian Tió, Eric Lintala, and Pamela Karimi went in depth to explore their personal artistic inspirations during their sabbatical leave.

Rebecca Hutchinson creates works made from clay and recycled materials, like old clothing or industrial surplus. "I hand-build, slip trail, dip, layer, cut and construct with the surplus and handmade materials. Works are influenced by growth patterns, but do not replicate nature." Hutchinson presents her large scale chine-collé collages and new 3D wall pieces created in collaboration with industry partners, such as the sole producer of the paper used for our US currency or utilizing cast off natural fiber garments. Rebecca Hutchinson, Professor of Ceramics, joined UMass Dartmouth in 2001. Her work is large-scale and engages concerns for both the observation of place and the myriad of construction possibilities in building site-specific work. Exhibitions include solo shows and installations at San Francisco Museum of Craft and Design; Taiwan Ceramics Biennale, Taipei, Taiwan; Keramikos Internationale della Ceramica D'Arte, Bracciano Museum, Bracciano, Italy; Fuller Craft Museum; and National Museum of Women in the Art - Washington D.C.

Anthony Fisher presents large scale abstract charcoal drawings created with the help of his sculptural objects functioning as "drawing machines". They became a subject of photographs taken by the artist known internationally for his camera obscura images, Abelardo Morell. Morell, in his statement for this exhibition, says, "Anthony's machines are in part his tools, but I see them as independent sculptures that contain much of his restless spirit. I hope that my pictures convey something of the mystery and charm of these objects." Fisher adds, "through obsessive scraping and erasing, my charcoal becomes increasingly animated and agitated. Until something emerges from my material that embodies and evokes a particular presence, I fold my constructions back into the inert material and try over and over again to provoke and imbue it with meaning." Associate Professor in Fine Arts at the UMass Dartmouth received his MFA from Yale University and his BFA from Carnegie-Mellon University. Fisher's next solo exhibition in New York City will take place at Galerie Mourlot in February 2018. His work has been reviewed in Art News, Art Critical, and Painting Perceptions.

Adrian Tió's interest in bright color, rhythmic patterning and expressive imagery is represented through experimental techniques in printmaking, papermaking, and book arts. He says, "the results are hybrids, combinations of elements of mainstream America and exotic Hispania. Through these artworks, I create an acculturated balance between these two worlds." Adrian Tió was born in Fort Wayne, Indiana, to parents who had emigrated from the Caribbean Island of Puerto Rico. Tió received his fine arts training from Temple University, the Tyler School of Art in Rome, Italy and the University of Cincinnati. He has exhibited nationally as well as regionally in drawing, painting, and printmaking for nearly 40 years, and has conducted workshops on mural painting, papermaking, and the book arts. He has been at UMass Dartmouth for over 10 years, serving as dean and now teaching courses in Printmaking.

Eric Lintala explores the esthetic of images that people used to communicate with long before a written language was developed to record elements of religion, hunting, farming, fertility and life and death… "It is the unknown, to try to understand what was, in relation to what is now and yet to come, that fascinates me. The sculptures I create have become a narrative involving the interaction of human, cultural and natural events from the past and present."
Eric Lintala received his Bachelor of Fine Arts and Master of Fine Arts degrees in Sculpture from Kent State University. Lintala has traveled extensively throughout the United States recording and researching pre-historic Rock Art, petroglyphs and pictographs, which has had a profound influence on his work. He has received numerous awards, grants, and commissions including the Holocaust Memorial for Buttonwood Park in New Bedford, the Silver Medal for Sculpture at the International Art Competition - L.A. Summer Olympics, a Sculpture Fellowship from the Artists Foundation in Boston, Certificate of Excellence International Art Competition in New York City.

Pamela Karimi presents her research "Designing Dissidence: Instituting and Inhabiting the Iranian Underground" in the upper part of the gallery. Despite its significance, there is only a small body of literature concerning the history of the Iranian "underground" as an alternative physical entity. Karimi's presentation shows how Iran's creative class has a robust presence through their adaptation or resistance to change. Examining selected covert designs and underground art venues—from over 7 decades—this project traces the link between art practice and spatial politics in modern Iran.
Pamela Karimi is Associate Professor of Art History and the Associate Director of the Office of Undergraduate Research at the University of Massachusetts Dartmouth. She is the author of Domesticity and Consumer Culture in Iran: Interior Revolutions of the Modern Era (Routledge, 2013) and co-editor of Images of the Child and Childhood in Modern Muslim Contexts (Duke, 2012), Reinventing the American Post-Industrial City (Sage, 2015) & The Destruction of Cultural Heritage in the Middle East: From Napoleon to ISIS (Aggregate Architectural Collaborative, 2016).