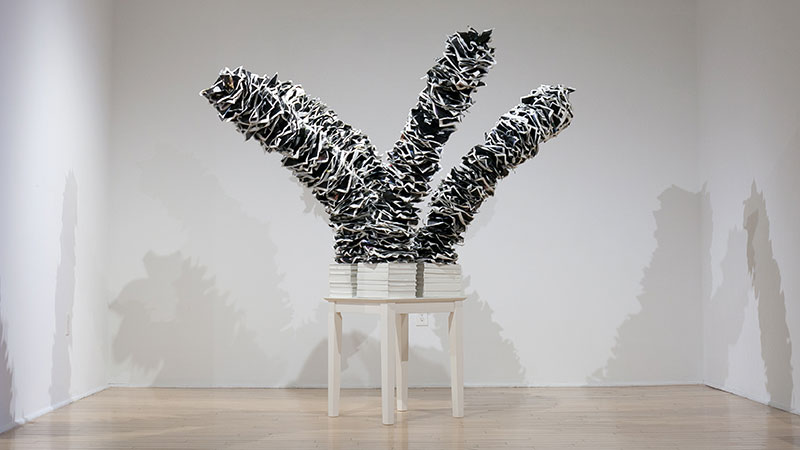 Reception: AHA! Night, December 10, 6-8 PM
Artist Talk 7 PM
The exhibition ConTexts at the University Art Gallery in New Bedford presents a series of work by Wendy Wahl created from re-purposed encyclopedias. Her 2D works, made of hundreds of rolled paper strips glued onto a wooden panels, are sculpted into complex, repetitive reliefs. When light hits, they create an amazing universe that changes in surprising ways as the visitor walks by, often revealing an underlying geometry. In Wahl's newest work created for the exhibition, she uses the tops of the pages with golden edges taken from old Funk and Wagnalls Encyclopedias. Ms. Wahl's 3D pieces, enhanced by shadow-producing light and made from cut pages released from its binding, might remind visitors of underwater creatures with tentacles reaching out from the walls or into the gallery space. ConTexts brings new and inspiring meaning to the phrase 'reading a page'.
For the last ten years Wendy Wahl's studio work has included a series that is created from thousands of pages of discarded and some now out of print volumes that include the Encyclopaedia Britannica, World Book, Collier's, Funk and Wagnalls and a variety of Dictionaries. The outcome of this work is an expression of her view of the connections between nature and culture. Wahl's interest is considering the associations between the tree of life, defined as the patterns of relationships that link all earth's species and the tree of knowledge, defined as the connected branches of human thought realized in the form of writing and speaking. This work is part of an ongoing experiment that uses the potency of printed text on paper. She is using a cultural artifact as her material for many reasons that include its unique physical qualities, the meanings that it carries and to recognize its existence. By restructuring familiar elements that in a particular format belongs to a collective consciousness, Wahl is commenting on an aspect of our station in time.
Wendy Wahl's work has been exhibited internationally and is in a number of private and public collections including the Cooper-Hewitt Museum, NY and the RISD Museum. In 2010, she was selected for Networks, a project documenting Rhode Island artists through video and exhibition. The same year, she was commissioned to create a piece for the entrance of SOFA (Sculpture, Objects and Functional Art exposition) at the Park Avenue Armory, NY. Her work has been the subject of exhibitions at the Grand Rapids Art Museum, Michigan, the Newport Art Museum, RI and Fuller Craft Museum in Brockton, MA. She has received artist fellowship awards from the Rhode Island State Council on the Arts and the US Ambassador to Tashkent, Uzbekistan selected her work for his residence through the Art in Embassy Program. She has been recognized in numerous publications including Art News, Boston Globe, Casa Vogue, Providence Journal, Metropolis, The New York Times, Architectural Digest, The New Yorker, the Britannica blog, the Curated Object and The Wall Street Journal. Currently she is a lecturer at The New School - Parson's, Department of Constructed Environments. She received an MAE in Textile Art from the Rhode Island School of Design and a BA in Art from California State University at Northridge. She resides in Rhode Island with her husband, John Dunnigan, and their daughter, Hannah. Wendy Wahl was born in Los Angeles, California in 1961.