Ranked by the American Physical Society as one of the top physics master's programs in the U.S., the MS in Physics is designed to:
advance your understanding of the concepts of modern and classical physics
develop your ability to apply these concepts to solve practical problems
We are interested in working with inquisitive and enthusiastic students who plan to pursue:
professional careers in research and teaching
applied areas of industrial research and development
The Physics Department offers a range of graduate courses in:
astrophysics
computational physics
electrodynamics
fluid physics
mathematical physics
nuclear physics
quantum mechanics
relativity
The department also offers courses emphasizing research—including thesis research and independent study in special topics.
You'll be encouraged to participate in faculty research in areas such as theoretical and computational physics—including atomic physics, relativity, high-energy and gravitational physics, and traffic modeling. Most students are supported by teaching or research assistantships.
Under the guidance of a graduate advisor, you will follow a course of study and research that is in harmony with your own background and goals. The size of our program fosters close personal contacts among students and faculty.
Our program's part-time option is geared toward students who are already professionally active but wish to enhance their knowledge base in the field.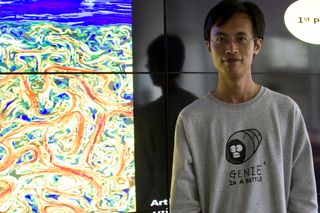 Student success
Unraveling the mysteries of the universe
Suoqing Ji, a recipient of the Burke Prize Fellowship in Theoretical Physics & Astrophysics, says with the help of computer simulations, human intelligence can unravel the mysteries in the deep universe.
Starting salary range:
$55,000 - $85,000
Private Sector: aip.org/statistics Spring 2020
The program's objectives are to:
provide a research-oriented master's program with diverse research opportunities
prepare graduates for professional positions in industry and teaching
prepare graduates to pursue PhD programs in physics and related fields
Ocean physics: We provide a path to the PhD program in oceanography at UMassD's School for Marine Science and Technology (SMAST). Learn more: SMAST PhD program
PhD in EAS: UMassD's doctoral program in Engineering & Applied Science (EAS) offers opportunities for contemporary, advanced interdisciplinary research. Learn more: PhD in Engineering & Applied Science
Candidates for the MS in Physics must complete a minimum of 30 semester hours of coursework. The department offers 3 degree options: MS with thesis, MS with research project, and MS with comprehensive examination.
Graduate coursework comprises 500- and 600-level courses, although up to 6 credits of the total may be taken in advanced undergraduate (400-level) courses.
While the program is designed to meet a variety of professional needs, at least 15 credits of physics core courses are required. The remaining credits may be drawn from physics or other engineering or science fields with prior approval of the Physics Graduate Program Director.
Major areas of research in the Physics Department include:
AMO Physics
Computational and Theoretical Physics
Experimental Nuclear Physics
Ocean Physics
Theoretical and Computational Astrophysics
Traffic Engineering
A limited number of assistantships are available on a competitive basis. This award is subject to the work needs of the position and department, your satisfactory performance of duties, your academic record, and availability of funds, and may be subject to change.
International (F-1) students who receive science, technology, engineering, and mathematics (STEM) degrees may be eligible to apply for a 24-month extension of their post-completion optional practical training (OPT). To learn about the eligibility criteria and detailed steps to apply, please review the International Student & Scholar Center (ISSC) OPT page and USCIS resources. F-1 students must consult with the ISSC to apply for STEM OPT.