Terms & Abbreviations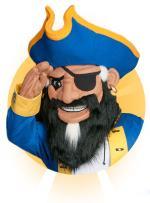 Arnie: The Corsair mascot—pronounced Arrrrrnie!—is a popular figure at many campus events. A corsair is a type of pirate as well as someone who's on a course or journey.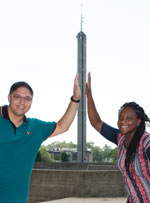 Campanile: The tower at the center of campus was a focal point in architect Paul Rudolph's design, emphasizing its lines and angles. Rudolph felt strongly that the Campanile would add to the campus's aesthetic appeal, but it might not have been built had it not been designated a "communications tower."
Campus Center: Most students visit the MacLean Campus Center at least once a day. It's home to the Campus Store, Commuter Café, Career Development Center, Center for Religious & Spiritual Life, Center for Women, Gender & Sexuality, University Club, WUMD Radio Station and offices for Parking, SAIL (Student Activities, Involvement, and Leadership), Student Affairs and UMass Pass.
CCB: Named for retail giant Earle P. Charlton, the Charlton College of Business is recognized by the Association to Advance Collegiate Schools of Business for excellence in business education.
COIN: Corsairs Online Information is our student information system. Students use COIN to view grades, register for courses, add/drop/swap classes, check course descriptions, view schedules, view registration holds, and check financial aid awards.
Commuter Café: Located in the Campus Center, this food-court style eatery is popular with students, faculty, and staff.
Corsair Shuttle: Sometimes refered to as the Dart Van, the shuttle provides transportation on- and off-campus during the academic year. Routes include UMass Law School and local retail stores.
CVPA: Classrooms and studios for art and music are concentrated in the College of Visual & Performing Arts building. The building also features the Campus Gallery and the Room 153 performance space. (See Star Store for information about our arts campus in downtown New Bedford.)
Dion: Many science and nursing classes are held in Dion, home of the College of Nursing. It's connected to SENG, the Science and Engineering building, and is the building farthest away from campus housing.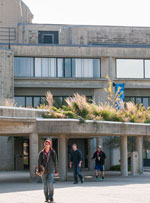 Foster: Foster Administration is the main administrative building, home to the Advising, Support & Planning office, the Student Support Center, Financial Aid, Registrar, Student Employment, and other university business offices.
HRE: The main office for Housing & Residential Education is located in Oak Glen Hall.
IDEAStudio: The Hall-Hildreth IDEAStudio is a digital/multimedia space with CAD-equipped computers, 3-D scanner and printer, laser engraver, and green screen wall. Located in the Textile building, the studio is a collaboration between the College of Engineering and the College of Visual and Performing Arts.
LARTS: The Liberal Arts building is home to the College of Arts and Sciences, many academic department offices, computer labs, College Now, International Programs, and the Writing & Reading Center.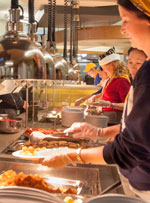 Marketplace/Res: Also known as the Residential Cafeteria, Res is the primary eatery for students who live on campus.
myCourses: Fully online and blended courses are offered through the myCourses portal.
myUMassD: Our myUMassD portal provides a central location for quick and secure access to announcements, email, COIN, myCourses, and more.
Quad: The residential area for first-year students provides programs to guide new students through their first year. Professional staff and student Resident Assistants (RAs) live in the Quad to help with questions and problems.
RA/RD: Resident Assistants (RAs) are upper-class students who live in the residence halls and serve as a resource to students. They build community, enforce rules, and provide guidance on a host of issues. RAs are supervised by Resident Directors (RDs), professional staff managers who handle student conduct issues and administrative tasks.
SAIL: If you want to get involved on campus, SAIL—Student Activities, Involvement, and Leadership—is where you begin: clubs and organizations, events and activities, leadership opportunities.
SENG: The Science & Engineering building links with the Library to the south and Dion to the north. It's home to the College of Engineering and offers classrooms and labs for several academic disciplines.
Star Store: Located in downtown New Bedford, the Star Store arts campus is home to hundreds of artists working in a variety of disciplines and to the University Art Gallery, which features exhibitions of local, national, and international artists.
TEX: Classrooms, labs, faculty offices, and the IDEAStudio are located in the Textile building.
The Tripp: The Tripp Athletic Center features a fitness center with cardio equipment, aerobics gym, and free weight area—plus an aquatics center, indoor track, and outdoor fields.
UMassD Alert: The university's notification system delivers emergency information to students through emails, text messages, and voice messaging.
Unity House: The Frederick Douglass Unity House supports the academic, cultural, and social needs of students of African descent. It's located on the lower level of the Resident Cafeteria.
Violette: The Violette Research Building contains classrooms, labs, and faculty offices.
Woodland Commons: Many campus events are held at the Woodland Commons and in Lawrence Hall, named for civic and spiritual leader Reverend Dr. Robert P. Lawrence.