Division of Student Affairs
Welcome to the UMass Dartmouth Community!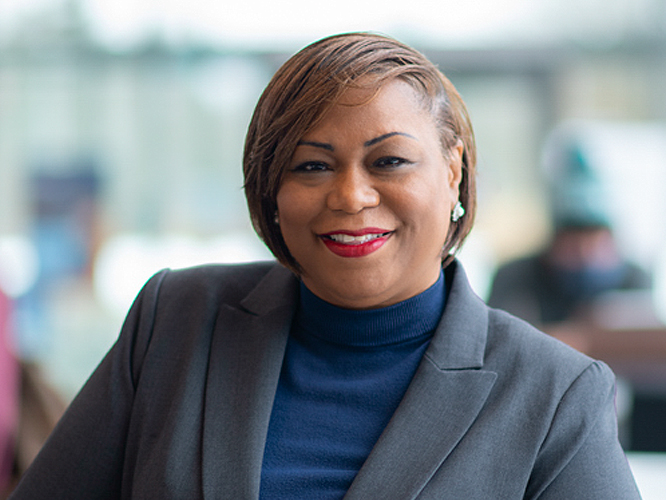 Going to college is an investment that pays lifelong dividends. I can attest to the transformational power of a college education as I entered the academy as a first-generation, lower-income student, earned a college degree, and achieved an even greater understanding of myself, my life's passion, and my commitment to ensuring others have the same life-changing opportunities I had during my educational journey. It has been my life-long mission to provide the resources and tools to help students successfully navigate their university experience.
The Division of Student Affairs is committed to partnering with students, faculty, staff, alumni, and employers to prepare students to be competitive in an ever-changing workforce. We take this work very seriously as we know we impact the economic trajectory of many of our students and their families.
Every student is unique and brings their own diverse experiences. So, I challenge you to meet new people, get connected and involve yourself in the Student Government Association, student organizations and/or any of the life changing opportunities and experiences that will prepare you to be a competitive global scholar and leader at the University of Massachusetts Dartmouth and beyond. Always remember, the most important person on this campus is you!
Kimberly M. Scott, PhD
Vice-Chancellor for Student Affairs
E-mail: kimberly.scott@umassd.edu
Phone: (508) 999-8640

Vision
We work collaboratively with our campus and community partners to transform students' potential to accomplish their dreams in a diverse and inclusive learning community.
Mission
We are educators dedicated to delivering high quality, co-curricular programs and services in a learning environment that supports students' holistic growth and development towards actualizing their full potential as responsible, engaged, and successful citizen leaders in a global environment.
Strategic Goals
Recruit and Retain a Diverse Student Body
Promote a Healthy, Safe, and Welcoming Campus Community
Increase Opportunities for Career Development, Leadership, Learning, and Civic Engagement
Advance Social Justice, Diversity, and Inclusion
Advocate for an Infrastructure that Better Supports Student Needs
CARES Student Assistance Form
We are concerned about the retention, enrollment and overall success of our students. If you are concerned about a student, you are a student with a concern, have a friend struggling or don't know where to go to get assistance you need, please complete our Student Affairs Student Assistance Form and we will get you connected to the right person, department, and/or resources.
Departments