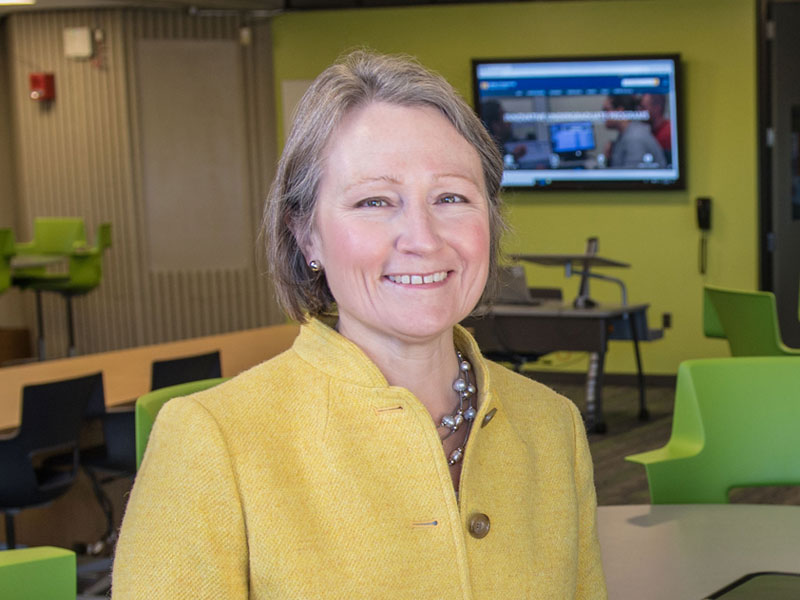 Jean VanderGheynst, PhD
Dean
College of Engineering

Curriculum Vitae
508-999-8539
508-999-9137
eq\i_`mbc`tino;ph\nn_)`_p
Dion 326
---
Education
| | | |
| --- | --- | --- |
| 1997 | Cornell University | Ph.D in Agricultural and Biological Engineering |
| | | |
| --- | --- | --- |
| 1994 | Cornell University | M.S. in Agricultural and Biological Engineering |
| | | |
| --- | --- | --- |
| 1991 | Syracuse University | B.S. in Chemical Engineering, with Distinction |
Research
Research Activities
"The Impact of almond by-product composition and nitrogen amendment on black soldier fly cultivation and quality," California Almond Board, $177,880, 2018-2019.
"Preparing Engineering Graduates for the 21st Century," National Science Foundation, $1 million, 2016-2021.
"Managing soil organic matter amendment and microbial community structure to enhance soil heating during solarization," National Science Foundation, $300,009, 2014-2019.
"Managing mixotrophic algae cultivation for efficient water treatment and biofuel production," National Science Foundation, $318,766, 2014-2019.
Research
Research Interests
Industrial biotechnology for the production of biofuels and bioproducts
Management of microbial communities in applications including water treatment, food, and energy production
Recruitment, retention, and success of students historically underrepresented in STEM
Select publications
Palma L., Ceballos S.J., Johnson P.C., Niemeier D., Pitssky M., VanderGheynst J.S. (2018).
Cultivation of black soldier fly larvae on almond by-products; impacts of aeration and moisture on larvae growth and composition.
Journal of the Science of Food and Agriculture
Higgins, B.T., Gennity, I., Fitzgerald, P., Ceballos, S.C., Fiehn, O., VanderGheynst, J.S. (2018).
Algal-bacterial synergy in treatment of winery wastewater.
Clean Water
VanderGheynst, J.S., Bronner, C.E., Wakefield, A. (2018).
Professional Development Activities that Improve the Persistence of Low-Income, Academically Talented Underrepresented Graduate Students in Engineering.
2018 ASEE Annual Conference & Exposition, Salt Lake City, Utah
Patent
J.S. VanderGheynst, HB Scher. Storage Stable Compositions of Biological Materials, U.S. Patent 7485451 B2 issued February 3, 2009.
Awards
2018 Outstanding Faculty Award, UC Davis,
2018 HERS Clare Booth Luce Scholarship Award to participate in the 2018 Higher Education Resource Services (HERS) Summer Institute for women's leadership development.
2016 Woman of the Year Award from Congressman John Garamendi for leadership and dedication to public service.
2016 University of California, Davis Distinguished Postdoctoral Scholar Mentoring Award from the UC Davis Academic Senate in recognition of outstanding commitment to mentoring in the overall success of the university's postdoctoral scholars.
2015 University of California, Davis MESA Citation awarded by the UC Davis/Sacramento State MESA K-12 school program for leadership, research, and support of mathematics, engineering, and science achievement (MESA) at the elementary level.
2003 Outstanding Mentor Award from the Consortium for Women and Research Advisory Board for mentoring women's research at UC Davis.