Programs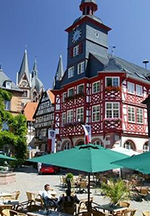 Exchange programs enable students from each of the partner universities to attend the other at little or no additional cost. Tuition & fees are paid to the home university.
UMass Dartmouth and the University of Massachusetts system have a number of active exchange programs that UMass Dartmouth students may participate in. Some Colleges and Schools have their own exchange agreements and others are open to students from any discipline. See the Programs in the IPO study abroad pages for current information.
Students from partner universities wishing to study at UMass Dartmouth should first consult the International Programs Office on their own for application procedures.

UMass Dartmouth acts as coordinator for the UMass - Hessen Germany partnership. All UMass campuses participate and applications originate from the students home campus. See the Study in Hessen website for more information on programs open to UMass students. UMass students are encouraged to download the Hessen Student Manual.