IT Learning Spaces
CITS supports learning with technology:
technology-enabled classrooms and lecture halls
computer classrooms and labs
Technology-enabled classrooms
IT classrooms across campus are equipped with state-of-the-art projection systems offering audio and video capabilities for classroom use.
Some classrooms have upgraded projectors that use an HDMI connection instead of VGA. If your hardware does not support HDMI, you can use AirMedia software to project wirelessly.
Computer classrooms and labs
These labs are teaching spaces for faculty who are using computer technology in their coursework, and are equipped with computers (for hands-on student use) and projection systems.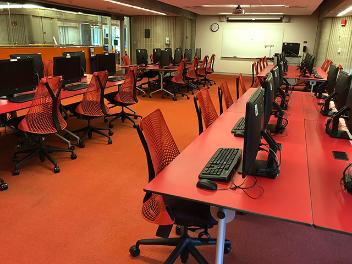 When not being used for teaching, the classrooms serve as public access computer labs for students, faculty, and staff.
Locations
Room numbers, platforms (Macintosh or Windows), and telephone numbers
Software
CITS provides a wide range of Windows and Macintosh software
PrintLess
Printing policies in CITS labs and classrooms and the Learning Commons
Information for faculty
Faculty and instructors may reserve a computer classroom for student access to computers during class time. Reservations are made via 25Live.
You can make a reservation for a single session, or for the entire semester, depending on your needs. Our facilities are limited, so we urge you to get your requests in early.
Note: Single session reservations must be made one week in advance.
The computer classrooms have all CITS-supported software. For additional software requests, use our Online IT Help form (login required).
Getting help
IT assistants are available in each of the CITS computer classrooms and labs. They can assist with machine malfunctions and basic software problems. For extended help, please contact the Learning Commons Service Desk at x8884