Class Year: 2018
Hometown/Country: Tampere, Finland
Major: Management - Entrepreneurship/Small Business
Minor: International Business
Recruited from Finland to play hockey for the Corsairs
Management major Jerry Laakso '18 was recruited from Finland to play hockey for the Corsairs. He previously played for Ilves, a Finnish sports club in his hometown of Tampere.
Playing defense, Jerry has garnered national recognition, having recently been named to NCAA Division III's Team of the Week for his performance on the ice. The honor is the first such award for Laakso in his Corsair career. He is also highly ranked in the Massachusetts State Collegiate Athletic Conference for assist scoring and defenseman scoring.
"Jerry came to us from Ilves, one of the premier junior hockey programs in Finland—the same organization that Bruins goaltender Tuukka Raask played for growing up," said Corsairs hockey coach John Rolli.
"Jerry is a very skilled defenseman and the quarterback on our power play," Rolli added. "He was recently selected to the MASCAC All-Conference team. In addition, he is an outstanding student with a three semester GPA of 3.96."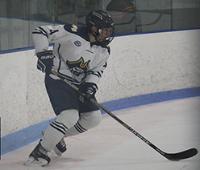 "My experience playing for the Corsairs has been great," Jerry said. "Mixing your education and sports isn't really possible in Finland. UMass Dartmouth offered the major and the minor I wanted. Entrepreneurship has always interested me."
The UMassD social scene: easy to meet people
Asked what's been most rewarding or surprising about his experience as an international student, said, "Tough question. I've had a lot of surprising and rewarding experiences here. If I had to give one answer it would probably be the social scene here. It's really easy to meet new people here because everyone's on campus. Maybe that's both rewarding and surprising."
Possible professional career on the horizon
For now, school and hockey are consuming most of Jerry's time.
"All my future plans are still open," he said. "After graduating from UMassD, I might keep on playing hockey as a professional, or try to find a job either in the U.S. or Finland."
More information
Corsairs Athetics: Men's Hockey