News
Women's and Gender Studies Professor Kristen Abatsis McHenry releases new book that investigates pink vs. green efforts in U.S. breast cancer movement
Dr. McHenry's 'The Green Solution to Breast Cancer: A Promise for Prevention' examines converging aspects of U.S. breast cancer movement
UMass Dartmouth College of Arts & Sciences faculty member Dr. Kristen Abatsis McHenry's new book The Green Solution to Breast Cancer: A Promise for Prevention takes a unique, research-based look at the U.S. breast cancer movement. The author compares the "pink" and "green" efforts within one of the largest advocacy movements in the history of the United States.
In 1964, the lifetime risk of breast cancer for women was one in 20. According to McHenry, today it is one in eight. Her critical and revealing text investigates breast cancer activism in its two forms—the "pink movement" that focuses on developing awareness of, coping with, and managing breast cancer; and the "green movement" that strives to determine the possible environmental causes of breast cancer—such as pesticides, chemicals, and water and air pollution—and thereby hopes to prevent breast cancer.
"Breast cancer activism is one of the most flourishing research and health advocacy movements ever assembled," Dr. McHenry said. "Yet the incidence of breast cancer is continuing to increase. My goal was to investigate two separate, but now arguably converging aspects of this historical movement and their use of similar citizen-science alliances."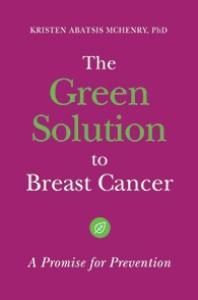 The Green Solution to Breast Cancer: A Promise for Prevention examines research findings that suggest that the pink and green aspects of the breast cancer movement are no longer separate but in fact converging toward a focus on environmental prevention. It provides an in-depth examination of advocacy organizations and the ways in which an organization's structure and ideology shape its agenda and strategies. The author also looks critically at the controversial aspects of the consumerism of the pink movement, including the portion of sales that actually supports cancer research and other shortcomings.
Dr. McHenry reviews the origins of the new green movement and if it will replace or merge with the pink movement. With information garnered from interviews with more than 50 industry stakeholders, the bookargues that key attributes such as strategy, mission, and branding have led to a greater convergence between the pink and green wings of the movement and presents information for readers to consider if one approach over the other might be the shorter route to beating breast cancer.
Dr. McHenry is a Full-time Lecturer in UMass Dartmouth's Women's and Gender Studies Department. She has taught courses on women's health and environment, women and international politics, and feminist research methods. Her research interests include women's health, environmental justice, motherhood studies, and transnational feminism. She received her B.A. in Women's Studies from Ithaca College and her Master's degree at the Women's Studies Institute at Georgia State University. She earned her PhD in Political Science from UMass Amherst.