‌‌‌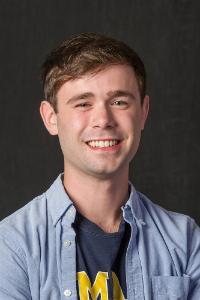 November 28, 2016

UMass Dartmouth's Jacob Miller earns Marshall Scholarshipå
First-ever Corsair among 40 scholars nationwide chosen for prestigious honor‌
UMass Dartmouth alumnus Jacob Miller (Class of 2016), a first generation college student from Fairhaven, MA, has been awarded the highly distinguished Marshall Scholarship to study in the United Kingdom. A maximum of 40 Marshall Scholarships are awarded nationwide each year.Jacob is the first UMass Dartmouth graduate to win a Marshall Scholarship.
The Marshall Scholarship was created in 1953 by Parliament to "strengthen the enduring relationship between the British and American peoples, their governments and their institutions." It is awarded to "talented, independent and wide-ranging" students. Marshall Scholars have gone on to become governors, Supreme Court justices, CEOs and Pulitzer Prize winners.
A dual Political Science and English major with a minor in Leadership/Civic Engagement and Urban Studies while at UMass Dartmouth, Jacob plans to use his scholarship to study management at Cambridge University for one year followed by a year of studying urban economic development at University College London. Then, he intends to build a non-profit organization focused on urban economic development and some day run for office.
"I'm honored, excited and humbled to receive this opportunity," said Jacob, who is currently working as the Grassroots and Coalition Coordinator for Opportunity Nation, a bipartisan, national campaign comprised of more than 350 cross-sector organizations working together to expand economic mobility and close the opportunity gap in America.
"This door was opened for me only because I had outstanding teachers, mentors, and supporters here at UMass Dartmouth and in the community who have encouraged me throughout my life," he said. "I like coalition building. Every project I've ever worked on has involved people of varying skills and perspectives working together to accomplish a common goal."
"The entire University of Massachusetts community is proud of Jacob for his receipt of the prestigious Marshall Scholarship," said UMass President Marty Meehan. "I had the pleasure of working closely with Jacob through his position as a student trustee. He represents the best qualities of UMass students and alums – brilliant, hard-working, humble and committed to civic engagement and public service. He deserves this recognition and we look forward to seeing where this opportunity takes him."
"Anybody who has ever come in contact with Jacob knows this is a young person who is putting his education to the best possible use, and will take this very special opportunity and run with it," said interim Chancellor Peyton R. Helm. "Jacob has already accomplished a lot and had a positive impact on his community, and we are all looking forward to what comes next."
Jacob was also assisted in his Marshall application by Dr. Susan Whitbourne, director the Office of National Scholarship Advisement at UMass Amherst. The office, with funding from UMass President Marty Meehan's office, organized a statewide forum last year to encourage Massachusetts public higher education students to pursue prestigious national awards. UMass Amherst is the only other Massachusetts public university to claim a Marshall Scholar in the last 10 years.
This is the latest in a series of national recognitions for Jacob, who in 2015 was named one of 58 nationwide recipients of the Truman Scholarship which supports the next generation of public service leaders. In 2014, he earned the Campus Compact Newman Civic Fellows Award, which recognizes a student's public involvement and motivation to create lasting change.
Jacob, who came to UMass Dartmouth as an Endeavor Scholar (one of the university's top recognitions), was elected by his peers as Student Trustee to serve on the University of Massachusetts Board of Trustees and served in a number of roles within student government as the Class of 2016 Senator and Recording Secretary. In addition, he was the Student Coordinator for the university's community service collaboration and was the founding CEO of the UMass Dartmouth Student-Run Business Association. He worked to found The Common Project, a storytelling platform to promote millennial civic engagement.
Jacob was named an Opportunity Leader by Opportunity Nation and he was the architect of UMass Dartmouth's partnership with Democracy Works to make the university the first public university in Massachusetts to partner with TurboVote, an online student voter engagement platform.
Jacob also played an integral role in the restoration of Tonnessen Square Park in New Bedford, establishment of the New Bedford Seaport Cultural District by the Massachusetts Cultural Council Board, development of a service-learning curriculum for the Dartmouth Public School system, and creation of a new student meal plan which includes three downtown New Bedford eateries.
While serving as a legislative intern for state Senator Mark Montigny, D-New Bedford, Jacob helped develop and pass health care legislation, which made it easier for students to remain with their less-expensive plans under the state's Health Connector.