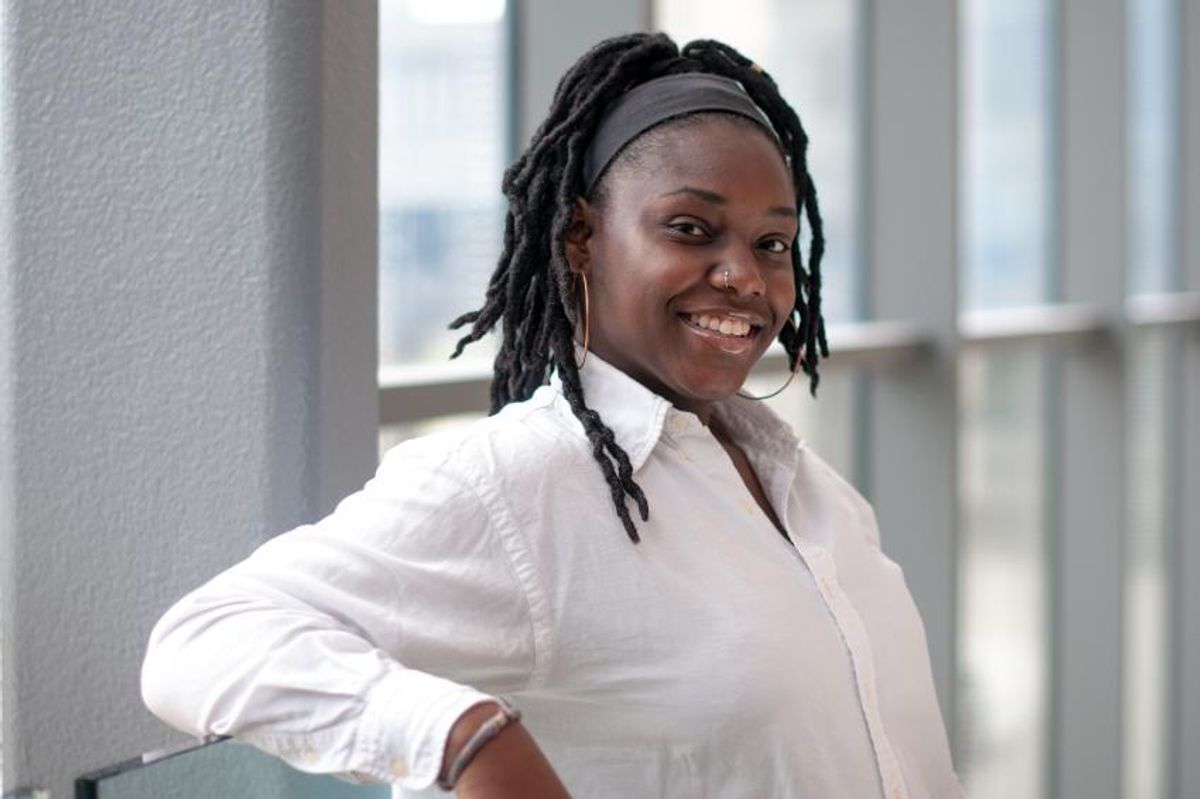 Feature Stories
Destiny Miles '19: expanding her horizons
Will pursue her interest in cognitive & behavioral health through graduate study in experimental psychology
Benefits & challenges of a dual major
I was interested in forensic psychology, but UMassD didn't offer that specific major, so I made my own major by combining psychology and crime and justice studies. I love learning about the brain and its cognitive and behavioral functions: psychology. However, my interests in crime and justice studies were derived from my desire to work with under-represented populations.
Many of the requirements for my two majors overlapped, so I never felt as if I had to do extra work—until senior year, when you have to do two research projects and take two senior capstone classes, but it was still manageable. I am happy I double majored. Going forth, I realized that I am more invested in the field of psychology and I will continue to pursue that field of science; however, I always have another degree in my back pocket that makes me qualified for many positions.
Internship & research
I worked at Massachusetts General Hospital's Institute of Health Professions in a research lab for the past two summers through the Student Success Jobs Program. This semester, I worked with Dr. Aminda O'Hare in the Cognitive & Affective Psychophysiology of Experimental Science lab, researching neural and behavioral affects.
Admissions ambassador
Becoming an admissions ambassador helped me discover all that UMassD has to offer.
Seeing prospective students' excitement helped me appreciate what I had in front of me. I learned about Paul Rudolph and his vision for the campus; our architecture was once viewed as bizarre but is now a legacy that makes our campus unique. I learned how Southeastern Massachusetts University transitioned to become UMass Dartmouth—a national Tier 1 research university with highly accredited programs, and tuition and fees that are still affordable.
Involved on campus & around the world
Being an admissions ambassador gave me the courage to expand my horizons and try new things. I became a Resident Assistant, joined the Rugby Club, the cheerleading team, and Curly In College, and participated in multiple planning committees. Joining clubs on campus taught me time management, which also strengthened me academically—and I have been on the Dean's List ever since.
I found my village within UMass Dartmouth's 710 acres. I have been involved in more than twenty organizations and have had four study abroad experiences: a Crime & Justice Studies program in Oaxaca, Mexico; a Hessen Exchange program in Kassel, Germany, a drum and dance program in the Asante Region, of Ghana, and a culture and religion program Hyderabad, India.
Next step: graduate school
I will be attending Saint Joseph's University in fall 2019 to study experimental psychology for my master of science degree.
My future goals are to conduct research using neuroscience and to give back to disadvantaged communities. Even further down the line, I want to establish a scholarship for students who come from disadvantaged backgrounds like mine but are driven to succeed.
More information