Feature Stories
UMassD is a global community, welcoming students and scholars from around the world
More than 600 international students are at UMass Dartmouth to acquire knowledge, improve skills, and pursue research
UMass Dartmouth is a global community, welcoming students and scholars from around the world. More than 600 international students, from more than 50 different countries, are at UMass Dartmouth to acquire knowledge, improve skills, pursue research, and share expertise.
According to NAFSA, the Association of International Educators, international students contribute $22.7 million to the region's economy.
"Many of our students concentrate on business programs or the STEM fields: science, technology, engineering, and math," said Christina Bruen, director of the International Students & Scholars Center (ISSC). "But we also have students pursuing art, economics, Portuguese, and professional writing."
Discovering UMass Dartmouth
Bruen said that students discover UMass Dartmouth through rankings—such as those in U.S. News & World Report—and through recommendations from family, friends, and guidance counselors.
Many are enrolled in undergraduate and graduate degree programs, while others come to UMass Dartmouth on semester- or year-long exchanges such as Fulbright Scholars and Science Without Borders (funded by the Brazilian government).
More than 100 of UMassD's international students are enrolled in programs administered by Navitas, a leader in global education. They hail from India, Indonesia, Malaysia, Myanmar, Nigeria, Pakistan, Zambia—more than16 countries in all. For aspiring undergraduates, Navitas provides an academic and cultural bridge between high school and university study. A semester-long program for graduate students prepares them to pursue an MBA or an MS in engineering.
The ISSC is a hub for all these students, providing support, advice, and important information.
"We want our students to be aware of the regulations for maintaining their student status," said Bruen. Center staff also collect and report data to the federal government, as mandated.
‌‌Orientation: warm welcome to campus
International Students Orientation, offered at the beginning of each semester, is a popular event that helps new arrivals with any potential culture shock. Sessions cover academics, health, safety, jobs, relationships, and American slang. Follow-up emails offer seasonal tips about the weather, holidays, and campus events.
A junior mechanical engineering major, Sergey Kasyanov recalled how helpful the orientation program was for him: "It was a way for me to engage with other students who were in the same situation as me. It was a warm welcome that took away some of the stress from traveling, being away from home, and trying to adjust to so much that was new."
Now an orientation leader himself, Sergey said that the program "introduced me to campus traditions and the way things work in the U.S.—which is very different from the student experience at home."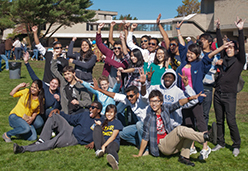 During the year, international students find support in programs such as the Writing and Reading Center's Conversation Partners.
Location, reputation, value
Oriane Pitah is an MBA student from the Ivory Coast who earned her associates and bachelor's degrees in Texas. "UMass Dartmouth was one of my first choices" for grad school, she said, based on location, reputation, and the wealth of information available on the ISSC's website.
Affordable tuition and fees and the natural beauty of the campus also factored into Oriane's decision.
"Being here helped me discover qualities I didn't think I had, said Oriane. "I found my real personality, and I'm now stronger than before."
As an assistant at the ISSC, Oriane has the opportunity to welcome new students and share what she's learned. As a graduate student, she's preparing for her CPA and CIA exams (certified public accountant and internal auditor) and is working with accounting professor Dr. Chan Du.
"Then will come the job search," Oriane said. "I plan to work here in the U.S. as long as I'm allowed to."
Like Oriane, many international students hope to extend their time in the U.S. to gain valuable work experience. Others will return to their home countries well-prepared to succeed in business, industry, education, research, and countless other fields—global ambassadors for UMass Dartmouth.
More information
Undergraduate International Admissions
Graduate International Admissions