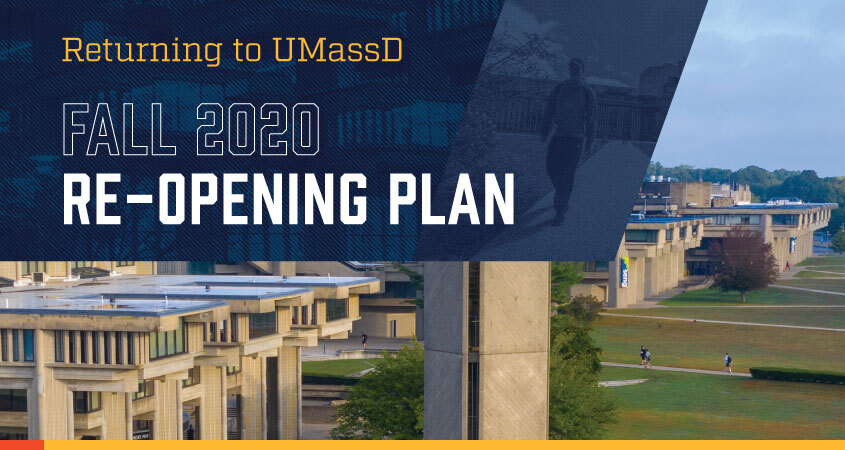 Hello everyone,
As you may have heard, the Baker Administration issued a new order for individuals traveling to Massachusetts.
Starting on August 1, anyone arriving or returning to Massachusetts must quarantine for 14 days unless they:
are coming from a lower-risk state, which currently includes Connecticut, Hawaii, Maine, New Hampshire, New Jersey, New York, Rhode Island, or Vermont, or
can produce, on request, proof of negative viral RT-PCR SARSCoV2 test result from a test administered on a sample taken within 72 hours before arrival in Massachusetts, or
Additionally, travelers must fill out the Massachusetts Travel Form. This simple form will help contact tracing efforts in the event you or a close contact contract COVID-19.
It is critically important for the health and safety of the entire UMass Dartmouth community that anyone traveling to our campus follow this order. As we have seen throughout this pandemic, personal responsibility is crucial to stopping the spread of this disease. Just as we expect everyone to use face coverings, practice good hygiene, and maintain social distancing, we expect everyone to comply with the order.
The University will have dedicated spaces in residence halls available for residential students to self-quarantine. The earliest date available to begin quarantine on campus for travel purposes will be Sunday, August 16. If you need to arrive early to self-quarantine, please contact Housing & Residential Education at 508.999.8140 or housing@umassd.edu.
For faculty and staff, please know that if you are subject to a Federal, State, or local quarantine or isolation order related to COVID-19, you can apply for Paid Sick Leave and Expanded Family and Medical Leave Under the Families First Coronavirus Response Act (FFCRA) via the HR Portal. Under FFCRA, paid leave of up to ten days (or equivalent if part-time) is provided for qualifying reasons up to $511 per day and $5,100 total. After 10 days, any time requested beyond that is unpaid or requires the use of an employee's available paid time accruals, if applicable. The University requires everyone whose job duties can be completed remotely to continue to work from home whilst quarantining. Employees are expected to work with their direct supervisor who will set the remote work expectations/duties.
If you have any questions, please email corona.virus@umassd.edu. We want to thank you in advance for helping our campus, community, and Commonwealth stay healthy.
Sincerely,
Mark Preble, SPHR, SHRM-SCP
Vice Chancellor for Talent & Chief Diversity Officer
Marianne Sullivan, DNP, ANP-BC
Director of Health Services
---