Feature Stories
Preparing tomorrow's engineers
Over 100 teams of middle and high school students gathered at the Tripp Athletic Center to compete in the National SeaPerch Challenge.
‌National SeaPerch Challenge, held this spring at the Tripp Athletic Center, challenged middle and high school students from across the country to compete using Remotely Operated Vehicles (ROVs) they had built. ‌
UMass Dartmouth helps prepare tomorrow's engineers by hosting events such as SeaPerch and other engineering competitions.
Of the 140 teams in attendance, "Neptune Robotics" from Souderton Area High School, Souderton, PA, won the championship.
SeaPerch Challenge
The competition was comprised of a poster presentation and an in-pool technical event. Juried by a panel of engineers and educators, the poster presentations highlighted the teams' design philosophies and construction challenges.
The teams had to demonstrate the capabilities of their ROVs through an obstacle course and finesse challenge.
SeaPerch program
The SeaPerch program provides students with the opportunity to learn about robotics, engineering, science, and mathematics (STEM) while building an underwater ROV as part of a science and engineering technology curriculum. The innovative program equips teachers and students with the resources they need to build the ROVs in an in-school or out-of-school setting.‌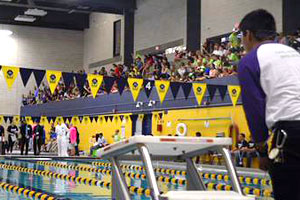 Students build the ROV from a kit comprised of low-cost, easily accessible parts, following a curriculum that teaches basic engineering and science concepts with a marine engineering theme. Throughout the project, students learn engineering concepts, problem solving, teamwork, and technical applicants.
After constructing the ROV, students test their vehicles, deploy them on missions, and compete in local and regional challenges.
More information