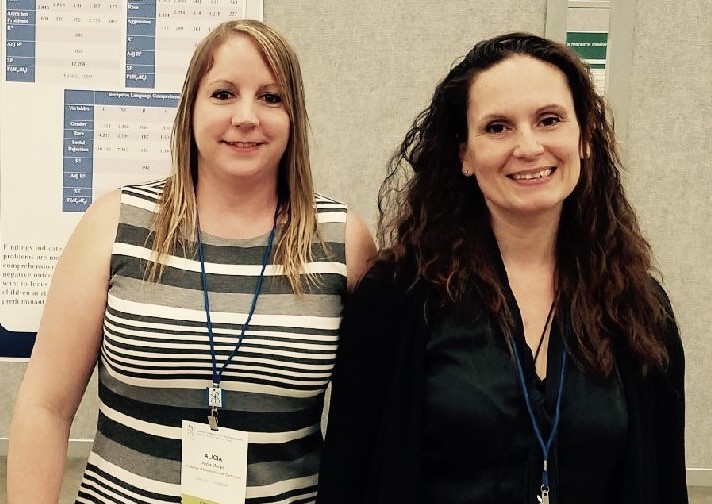 For Alicia Cronister-Morais '17, pursuing a degree in psychology was the perfect decision. With a deep love for persistent learning in a continuously growing field, Cronister-Morais was given a wonderful opportunity this past summer to conduct an individual research project that allowed her to pursue her own interests while putting the skills she's gained from undergraduate coursework and from her experiences as a research assistant to the test.
Just recently, Cronister-Morais presented her research at the Society for Research and Child Development's international biennial conference (SRCD), an academic conference dedicated to the interdisciplinary research, diversity, and international perspective on developmental science and society from around the globe.
"My poster was accepted under the behavioral science and public policy area of the conference," said Cronister-Morais. "Not only has this experience prepared me for graduate programs in clinical psychology, it has given me an understanding as to how and why research is conducted, which will assist me in terms of my future career goals."
With future aspirations to work with children and families as a licensed therapist, Cronister-Morais' research centers on recognizing the relationship between language barriers and externalizing behaviors that impact children's social developments.
"Teaching children how to understand language and being able to express proper emotions will impact their ability to create friendships, thus limiting peer rejection," said Cronister-Morais. "Knowing that some behaviors are a product of not understanding language and emotion will help guide my methods of therapy and how to approach each child since I am specifically looking at using behavior modification and therapy in my future practices."
Cronister-Morais credits a lot of her success to the dedicated professors she's had during her time at UMass Dartmouth. Dr. Robin Locke-Arkerson, who was the first to introduce Cronister-Morais to the research aspect of psychology, helped encourage her to eventually pursue independent research.
"I quickly found that I enjoyed the research aspect of the field and that I was very eager to train and learn as much about research study as I could," said Cronister-Morais. "Both the faculty and my classmates have had such a positive influence on me, and I feel like I have more confidence in my abilities and within myself now."
Learn More
---